Classical Piano Sheet Music to Download and Print

or to View in Your
Mobile Device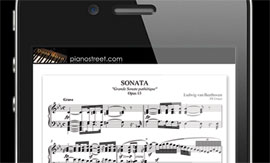 ---
Sign-up now
For instant access to the printable sheet music of
Album d'un voyageur, Book 2 by Liszt
and thousands of other classical piano pieces,
sign up
for a Piano Street Gold Membership!
Franz Liszt: Album d'un voyageur, Book 2
The Album d'un Voyageur was Liszt's first major published piano cycle. Much of it was to be revised and to form the basis for his later masterpiece Années de pèlerinage, First Year: Switzerland. With its mixture of original works, transcriptions and fantasies, incorporating folk-music material and other composers' themes, it is a reflection of Liszt's wide-ranging creative process. The travelling in the title alludes to Liszt's flight from Paris to Geneva together with his lover Marie d'Agoult, a married member of the French aristocracy. They had three children together in the years between 1835 and 1839, and Liszt remained a European vagabond for almost a decade. The second book, "Fleurs mélodiques des Alpes" is divided into three groups of three pieces. Many of them are based on external sources such as folk melodies, popular art songs, horn calls - and two of them employ melodies by Ferdinand Huber. Only two of these pieces found their way into the Années de pèlerinage.
Sheet Music Downloads: