Classical Piano Sheet Music to Download and Print

or to View in Your
Mobile Device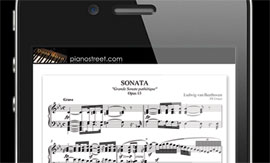 ---
Sign-up now
For instant access to the printable sheet music of
Années de pèlerinage, Second Year: Italy by Liszt
and thousands of other classical piano pieces,
sign up
for a Piano Street Gold Membership!
Franz Liszt: Années de pèlerinage, Second Year: Italy
Like its predecessor, the second set of Liszt's Years of Pilgrimage is comprised of pieces inspired by Liszt´s travels with his lover, Marie d'Agoult, throughout Italy and Switzerland in the period 1835-39. But unlike the previous volume, it does not depict scenery or moods from nature, but rather impressions of the country's artworks.
Sposalizio is a reaction to Raphael's painting The Marriage of the Virgin; Il Pensieroso was inspired by a statue by Michelangelo; the Canzonetta and the Sonnets are Liszt's responses to Italian poetry; and the Dante Sonata, the longest and most demonic work of the whole Pilgrimage series, was obviously composed with reference to the Divine Comedy (although the title, After a Reading of Dante, actually comes from a Victor Hugo poem).
Sheet Music Downloads: