Classical Piano Sheet Music to Download and Print

or to View in Your
Mobile Device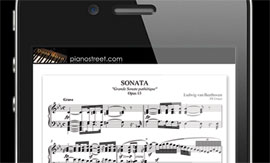 ---
Sign-up now
For instant access to the printable sheet music of
Années de pèlerinage, Third Year by Liszt
and thousands of other classical piano pieces,
sign up
for a Piano Street Gold Membership!
Franz Liszt: Années de pèlerinage, Third Year
The third set in Franz Liszt´s trilogy, Years of Pilgrimage, carries no subtitle relating it to a specific country, although the first four pieces clearly are of Italian origin. All the music comes from Liszt´s final period; the set was published three years before the composer's death. The tempos are mostly slow and the moods meditative, religous or mournful; only the fourth and most popular piece of the set, Les jeux d´eaux à la Villa d´Este, features lively tempos and brighter atmosphere. This piece, with its coloristic effects and tonal subtlety is often mentioned as a forerunner of impressionism. As a whole, the collection is a valuable example of Liszt's later style.
Sheet Music Downloads: