Classical Piano Sheet Music to Download and Print

or to View in Your
Mobile Device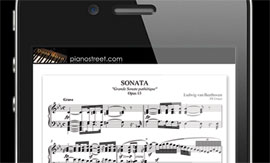 ---
Sign-up now
For instant access to the printable sheet music of
Soirées de Vienne by Liszt
and thousands of other classical piano pieces,
sign up
for a Piano Street Gold Membership!
Franz Liszt: Soirées de Vienne
These waltzes belong to the numerous arrangements Liszt made of works by Schubert. Many of these arrangements helped substantially to bring Schubert's name to the general public, and Soirées de Vienne are probably among the most successful things of this kind which Liszt ever did.
The first eight are free arrangements of two or more dance melodies, made coherent by introductory and linking passages. However, the ninth in the series is a set of six variations on a single waltz – the Trauerwalzer, Op.9 No.2 – the same waltz that inspired Schumann to the first movement of his Carnaval.
Sheet Music Downloads:
Posts in the piano forum about Soirées de Vienne by Liszt:

Liszt, Soirées de Vienne

July 01, 2011, 09:46:45 AM by mike1515


Hello everyone!

I'm studying Liszt - Soirées de Vienne - Valses-Caprices d'apres Fr. Schubert, S.427 (1852) - No.4
I was just wondering why this piece doesn't appear in this site, it's a really interesting and beautiful piece.

And one more thing.
I would like your opinion on my next year's piano programme:
-Chopin etudes: op.10 1, op. 10 4, op. 25 10.
-Liszt, Waldesrauschen.
-Clementi sonata op. 7 no. 3 in g minor
-Bach prelude and fugue no. 15 in G major, WTC I
-Liszt Soirées de Vienne, 4
-Rachmaninoff prelude op. 23, 3 (d minor) and 7 (c minor)
-Joaquin Turina, Danzas fantasticas 3, Orgia.

Thanks very much and sorry for my english!

P.D: I won the competition playing Brahms Rhapsody op. 79, no. 1 and Debussy Tarantelle Styrienne!