Classical Piano Sheet Music to Download and Print

or to View in Your
Mobile Device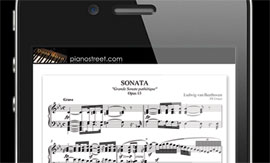 ---
Sign-up now
For instant access to the printable sheet music of
Songs for Piano by Mendelssohn-Hensel
and thousands of other classical piano pieces,
sign up
for a Piano Street Gold Membership!
Fanny Mendelssohn-Hensel: Songs for Piano
Fanny Hensel held matinee concerts in her home that were among the best musical events in Berlin during the 1830s and 40s. Her piano compositions written for these events remained mostly unpublished - although her brother Felix was privately broadly supportive of her as a composer and a performer, he was cautious (professedly for family reasons) of her publishing her works under her own name.
Fanny Mendelssohn composed over 460 pieces of music, of which more than a hundred were works for solo piano, mostly short "Songs for piano", as she felt her abilities did not extend to larger, more intricate compositions. She wrote to Felix in 1835, "I lack the ability to sustain ideas properly and give them the needed consistency. Therefore lieder suit me best, in which, if need be, merely a pretty idea without much potential for development can suffice."
Sheet Music Downloads: