Classical Piano Sheet Music to Download and Print

or to View in Your
Mobile Device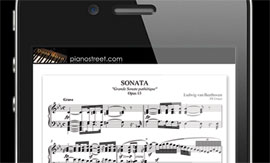 ---
Sign-up now
For instant access to the printable sheet music of
Six Pieces for Children by Mendelssohn
and thousands of other classical piano pieces,
sign up
for a Piano Street Gold Membership!
Felix Mendelssohn: Six Pieces for Children
This collection, composed while Mendelssohn was staying with his wife´s relatives in England during the summer of 1842, was first published shortly after the composer died in 1847.
In the original English edition, they were called Six Christmas Pieces, although they were not meant to convey any specially yuletide character. The German edition selected the name Kinderstücke, or Children´s Pieces – wholly appropriate, as Mendelssohn composed these short character pieces for members of his host family.
Sheet Music Downloads: