Classical Piano Sheet Music to Download and Print

or to View in Your
Mobile Device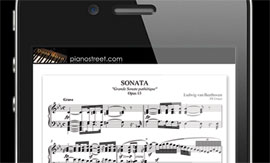 ---
Sign-up now
For instant access to the printable sheet music of
Six Preludes and Fugues by Mendelssohn
and thousands of other classical piano pieces,
sign up
for a Piano Street Gold Membership!
Felix Mendelssohn: Six Preludes and Fugues
During the 1830s, Mendelssohn composed prolifically for the piano – this decade saw the publication of the first three sets of Lieder ohne Worte, five works for piano and orchestra and several other keyboard works.
Most of the Six Preludes and Fugues, Op. 35, was written during the mid-1830s. Of course, Mendelssohn's interest in counterpoint and his study of Bach had begun much earlier, and the first fugue seems to have been composed as early as 1827.
Sheet Music Downloads: