Classical Piano Sheet Music to Download and Print

or to View in Your
Mobile Device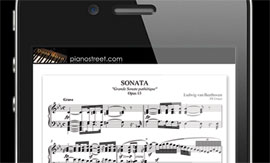 ---
Sign-up now
For instant access to the printable sheet music of
Sonatas by Mendelssohn
and thousands of other classical piano pieces,
sign up
for a Piano Street Gold Membership!
Felix Mendelssohn: Sonatas
Mendelssohn's Piano Sonatas aren't usually considered of the same artistic value as his Lieder ohne Worte, Scherzos, Concertos etc. This may be explained by the fact that despite some late opus numbers, these are early works from Mendelssohn's teens. Perhaps out of a sense of never being able to compete with Beethoven, around turning twenty Mendelssohn gave up piano sonata composition for good. The earliest work here is the Sonata in G minor, Op 105, composed when Mendelssohn was only twelve and had not yet succumbed to Beethoven's music. Only a year or two later, the young composer's style changed drastically under the influence of the older master. In the Sonata in E major, dating from 1826, the year of A Midsummer Night's Dream and the String Quintet in A major, the influence of Beethoven is apparent. The Sonata in B flat has the same opus number as Beethoven's Hammerklavier Sonata and cheekily references that work as well as the Moonlight Sonata before transforming into something much more gentle.
Sheet Music Downloads: