Classical Piano Sheet Music to Download and Print

or to View in Your
Mobile Device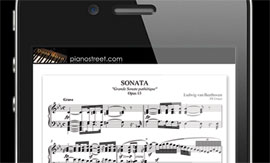 ---
Sign-up now
For instant access to the printable sheet music of
Three Fantasies or Caprices by Mendelssohn
and thousands of other classical piano pieces,
sign up
for a Piano Street Gold Membership!
Felix Mendelssohn: Three Fantasies or Caprices
The story behind this collection, and more specifically the Scherzo Op. 16 No. 2, was described by Mendelssohn in a letter to his parents.
During the summer and autumn of 1828, the 19 year old Mendelssohn was staying at a friend's house in Wales. One day, one of the girls in the family came to him wearing a bunch of yellow flowers, proclaimed them to be little trumpets and asked if Felix would perhaps write some music for them. He sat down, made up a suitable little piano piece, and added it to a pair that he had already written for the other two sisters in the family. Thus came the three pieces of Opus 16 together.
Sheet Music Downloads: