Classical Piano Sheet Music to Download and Print

or to View in Your
Mobile Device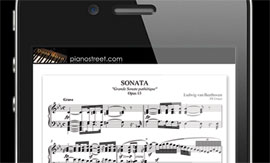 ---
Sign-up now
For instant access to the printable sheet music of
Variations by Mendelssohn
and thousands of other classical piano pieces,
sign up
for a Piano Street Gold Membership!
Felix Mendelssohn: Variations
Mendelssohn's Variations op 54 were written thanks to Pietro Mechetti, who had asked the most renowned composers of the time to contribute works to help financing a Beethoven monument in Bonn. Mendelssohn first refused to cooperate, but finally consented to participate due to Mechetti's insistance. Until then Mendelssohn had avoided the variation form in his piano music, and probably chose the byword "serious" in the title in order to distinguish his composition from the superficial, applause-seeking "Variations brillantes" common at the time. Nevertheless, these variations are certainly "serious" also in terms of character, even tragic. Having written one set of Variations, Mendelssohn continued to study the genre in great depth; following on directly from the Variations Sérieuses, he wrote the somewhat more light-hearted Variations in E-flat op. 82 and B-flat major op. 83, published posthumously.
Sheet Music Downloads: