Classical Piano Sheet Music to Download and Print

or to View in Your
Mobile Device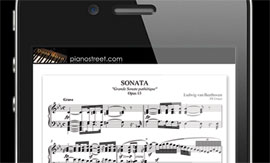 ---
Sign-up now
For instant access to the printable sheet music of
The London Sketchbook by Mozart
and thousands of other classical piano pieces,
sign up
for a Piano Street Gold Membership!
Wolfgang Amadeus Mozart: The London Sketchbook
In 1763, the Mozart family went on a grand tour of Europe, lasting three and a half years and taking them as far afield as London. During these years of travel Mozart, already considered a wonder child, improved his abilities as a composer immensely. His father Leopold wrote: "What he knew when we left Salzburg is a mere shadow compared with what he knows now. It exceeds all that one can imagine... My boy knows in this his eighth year what one would expect only from a man of forty". The London Sketchbook, perhaps more than any of the other manuscripts of the period, reveals Mozart's expanding musical horizons - by the time he had finished using it he was already the composer of several symphonies.
Sheet Music Downloads: