Playing pop songs on piano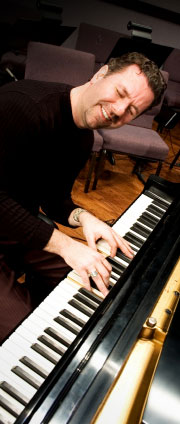 Most popular downloads:
1. Adele -
Someone Like You
2. Matt Redman -
10,000 Reasons
3. Christina Perri -
A Thousand Years
4. Laura Story -
Blessings
5. Fun. -
We Are Young
6. Yiruma -
River Flows In You
More top downloads from musicnotes.com...
The links are to sheet music from musicnotes.com. The complete arrangements for piano cost about $5.
While these kind of ready made arrangements are great for learning to play in various pop styles, you may also want to learn to play in a similar way from what is called a leadsheet, containing only melody, text and chord symbols (see
example of the leadsheet
for Adele's Someone like you). This is certainly the more "real" way to play pop piano, i.e. not by strictly following a score note for note such as you would do when playing a piece by Bach for example.
Leadsheets
Learning to play from leadsheets rather than from written out arrangements will give you more freedom to interpret the song in your own way. It will also give you more possibilities to play the songs you want: not all pop songs are available in good piano arrangements, but most of the time you will be able to find, if not a leadsheet, then at least the chord sequence for the song you want to play. What's more, leadsheets are cheaper (about $2 at musicnotes.com).
If you are familiar with playing from chord symbols, but would to like to get some more good ideas about how to play in different styles, a good option would be to get hold of a leadsheet for the song you want to play, then print and study only the first page of the written out, arranged version (which you can do for free at musicnotes.com). This way, you get an idea of how to continue without having to keep reading note for note.
Some basic facts about chords
Chords are everywhere, in both classical and pop music. They are the harmonic filling or background needed to accompany the melody of a song or piece.
In Western music tradition, major and minor triads are the most important chords. In a lot of pop or rock music, a few basic major and minor chords will be enough to support the melody. But to be able to play all kinds of music, you will need to know how you can alter and add to those basic three-note chords, and learn the various chord symbols. This is especially true if you want to play a lot of jazz, where advanced harmonic content can be one of the main features of a song or piece.
Here is a link to Wikipedia's article on the theory of triadic chords:
http://en.wikipedia.org/wiki/Triad_(music)
And a link to an interactive chord-finder where you can listen to and play around with 544 different piano chords:
http://www.piano-chords.net/
You will soon find out that in every key, there are a few chords that are more useful than others. These are called primary triads. Together, they encompass all seven tones of the scale, which make them a simple means of covering many melodies. Read more about this at Wikipedia:
http://en.wikipedia.org/wiki/Primary_triad
http://en.wikipedia.org/wiki/Three-chord_song
How to make that pop song sound great on piano?
One thing to keep in mind when looking at piano chord charts, is that they are only intended to show, in a rather theoretical fashion, which notes should be included in the chord. Mostly, the chord will be shown in root position, the individual notes stacked closely. In reality, you will often have to find other positions and spacings between notes to make the music sound good.
Of course, if you are new to reading chord symbols, a great way to begin is to play a simple chord in root position with your left hand, while playing the melody with your right hand. But as soon as you start to feel more confident, you should try to separate the bass notes from the rest of the chord, and perhaps put some of the accompanying notes in the right hand. Study some advanced piano arrangements of pop songs, or even better, some pieces of classical piano music, and you will get an idea of what kind of spacing creates a nice piano sound.
I like classical piano music - why should I bother about chords and playing by ear?
The fact that you are reading this probably means that you are already interested in getting better at playing by ear. But perhaps these facts that will increase your motivation even more:
All of the great early classical composers - Bach, Mozart, Beethoven - were also great improvisers. They could not only meticulously work out and write down their great serious masterpieces, but considered it part of their craft to be able to take any popular tune of their day and spontaneously play around with it. This ability to improvise on the spot has been almost lost among today's classical musicians. Sometimes, people have tended to think that the skill of performing classical music and the skill of improvisation are impossible to combine. But to be sure, it will only enhance your abilities as a classical performer to get some training and experience in this area.
Studying chord theory or harmony could also be a very useful key to a better understanding and memorising of the classical piano repertoire. Needless to say, this also works the other way around: aspiring pop or jazz pianists will benefit enormously from studying the piano styles of some of the great classical composers.
Useful forum topics about how to play pop music on the piano:
How to play pop songs on piano?
The trick to playing "covers" (pop term for songs written by others than yourself) is not to carbon-copy the original performer, but enhance the tune with your style while still respecting the original artist's intent. It's all about chords, rhythym, and good listening skills.
You could play from music, but it is light years better to play by ear. Analyze the piece you are learning by listening to the arrangement over and over... as for chords, most pop songs use few, and their arrangement is predictable and repetitious. Learn to recognize the placement of different chords in context to each other by hearing them. Begin playing by just using root chords and bass notes, and work in inversions and non-chord passing notes in the bass line. Hum or sing the melody at first. Eventually you can work in your melody lines, and come up with some creative chords and tenor/alto/bass lines that will enhance the song nicely. I found my Harmony studies a huge help. This style is also the basis for improv, which you will need to place in the songs as well, or they will be too short. I encourage you to sing as well, if you are any good; if not, it is worthwhile to develop your voice.
Can you play pop song spontaneously without a score?
How many of you can play spontaneously say pop or kids song without a score? How good you play it? Just melody in right hand and accompaniment at left hand, or you can put lots of ornament on it?
How you learn it at first time?
I always play classic (not in full time, just from private lesson), and its hard to play without a score. Now I am taking private lesson for this thins. It runs about 4 months but still need lots of practice.
So I wonder how you all master it.
Thank you.
POP Songs DERIVED from CLASSICAL
I don't know if the "composers" of these popular hits ever credited/acknowledge their "real composers".
"All by Myself" - from in Rach2 Piano Concerto (Op.18) 2nd mov't
"A Groovy Kind of Love" - from Clementi Sonatina in G, 3rd mov't (Op. 36/2)
(a Barry Manilow song...I forgot) - with full intro exactly as Chopin's C minor prelude (Op. 28/20)
"No Other Love" - from Chopin Etude in E (Op.10/3)
"To Love Again" - from Chopin Nocturne in Eb (op.9/2)
Can you add some more...?