Classical Piano Sheet Music to Download and Print

or to View in Your
Mobile Device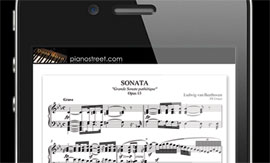 ---
Sign-up now
For instant access to the printable sheet music of
Etudes by Chopin
and thousands of other classical piano pieces,
sign up
for a Piano Street Gold Membership!
Frédéric Chopin: Etudes
Chopin's Études represent something quite new in the tradition of writing studies for the development of piano technique.
Just as his predecessors in the genre, Chopin concentrates on a particular problem in each of his studies, but the extremely advanced technical skills needed to master these pieces becomes secondary to the musical satisfaction they give as concert pieces, invested as they are with the utmost creative power and poetry.
The first set (Op. 10) is dedicated to Franz Liszt, about whom Chopin reportedly said with regard to the études: "I wish I could steal from him the way he plays them."
The final three studies, without Opus number, were composed as part of a series called "Méthode des méthodes de piano" compiled by Moscheles and Fétis.
Sheet Music Downloads:
Posts in the piano forum about Etudes by Chopin:

Big youtube "Pianist" bashes the chopin etudes?

July 03, 2011, 05:22:27 PM by chopinaninoff


A pianist on youtube that goes by the name of BachScholar, who has over 5 million views on his videos, and 7 thousand subscribers has a long info on his channel. And at the end he writes...Before reading this, understand, that I understand everyone has personal taste...but to put down the entire 24 etudes that can help any pianist...is just absurd.opinions?


"I get many requests to play and teach Chopin's Etudes. I hate to disappoint you, but I dislike the Chopin Etudes. In my opinion they are overplayed and overrated and YouTube is already oversaturated with far too many performances of them. In my opinion the Etudes are Chopin's weakest works as a whole, which are simply made weaker by most pianists' obsession with speed. They have become pretty much speed contests more than anything, which I will have no part in. Czerny's op. 740 etudes are much better works of music in my opinion.

Some have tried to convince me that I am "wrong" and that the Chopin Etudes are great, but fail to understand what personal taste really means. For example, take a food you don't like and imagine all your friends constantly trying to convince you that this food is great and you are wrong for not liking it. Would this annoy you? Now put yourself in my shoes and imagine how annoying it would be if everyone said you really "should" like the Chopin Etudes. In other words, personal taste is personal taste. "



Chopin Etudes- Which one to start?

June 12, 2011, 06:55:13 PM by fangpiano


Hi everyone!

I'm having trouble to decide which Chopin etude to start- I've never played any before. I know that I should probably start from the easier ones, but the ones that I really like Op. 10 No. 4, No. 12, Op. 25 No. 6 are all very difficult. I've played some difficult pieces like Beethoven Pathetique sonata Mvt 1, Chopin Nocturne Op 9 no 1, but they are easier than most etudes. I'm not sure if I should just jump to the harder etudes. Suggestions?



Chopin Etudes

April 11, 2011, 10:32:46 AM by chopinlover23


hey guys! I just wanted to ask if anyone could tell me which etudes (Chopin) from op. 10 and 25 are the easy and ones that are hard.



Project 27

April 04, 2011, 11:59:38 PM by cygnusdei


Something just came to mind - would you be interested in contributing to complete performance of Chopin Etudes Opp. 10 & 25, by pianostreet, for pianostreet?

The idea is to have 24 unique performers each contributing one's own performance of an etude of his/her choosing. There should be a rough timeline until completion, perhaps ~2 months should give ample time for preparation? Since I start this thread, I get first dibs - hehehe - we can always trade later. Anyway, I'm thinking of taking Op. 25 no. 6. I just recently started learning this, so I'm not cheating at all!

Here we go (I'll update the list as we go along):

Op. 10
1. pianowolfi
2. pianowolfi, furtwaengler, Mayla
3. quantum
4. cygnusdei
5. fleetfingers, ted
6. mnmleung
7. furtwaengler
8. MachineMe, furtwaengler
9. ongaku_oniko MonstyMachine, pianisten1989
10. furtwaengler
11. MonstyMachine
12. pianisten1989, ted

Op. 25
1. Mayla, fleetfingers, ted
2. cygnusdei
3. furtwaengler
4. furtwaengler, nanabush
5. roxyroo98
6. cygnusdei, Mayla, ted
7. pianisten1989
8. MonstyMachine
9. MachineMe
10 Mayla, nanabush
11. ted
12. Foxy, quantum

Nouvelles études
(Fm) 1. pianowolfi
(A♭) 2. liszt1022
(D♭) 3. MonstyMachine

Are you up for the challenge? Huh? Huh ...?

-------

UPDATE

Project 27 is now free for all (selection overlaps OK)
Deadline for submission is June 14, 2011 (for motivation, not "drop dead")
One rule: post *your own* performance