Classical Piano Sheet Music to Download and Print

or to View in Your
Mobile Device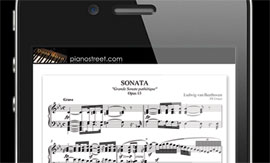 ---
Sign-up now
For instant access to the printable sheet music of
Moments Musicaux by Rachmaninoff
and thousands of other classical piano pieces,
sign up
for a Piano Street Gold Membership!
Sergey Rachmaninoff: Moments Musicaux
By the fall of 1896, Rachmaninoff´s financial status was precarious, and the situation was not helped by his being robbed of money on a train trip.
On December 7, he wrote to his composer friend Aleksandr Zatayevich, "I hurry in order to get money I need by a certain date ... This perpetual financial pressure is, on the one hand, quite beneficial ... by the 20th of this month I have to write six piano pieces." The pieces in question were the Moments Musicaux, which Rachmaninoff managed to complete in time.
Sheet Music Downloads: