Classical Piano Sheet Music to Download and Print

or to View in Your
Mobile Device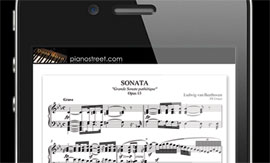 ---
Sign-up now
For instant access to the printable sheet music of
Morceaux de Fantaisie by Rachmaninoff
and thousands of other classical piano pieces,
sign up
for a Piano Street Gold Membership!
Sergey Rachmaninoff: Morceaux de Fantaisie
This set contains the first pieces recognizably characteristic of Rachmaninoff, showing the 19-year old composer's increasing confidence and command of his instrument.
The No. 2 Prelude has become one of Rachmaninoff's most famous pieces. The composer himself expressed some regret that he was more or less forced to play the piece, which reminded him of the church bells of his childhood, in almost every recital he gave for the rest of his life.
Sheet Music Downloads:
Posts in the piano forum about Morceaux de Fantaisie by Rachmaninoff:

Rachmaninoff Morceaux de Fantasie Op. 3

September 25, 2007, 09:53:28 PM by iumonito


Hi all,

I am fixing to learn these five pieces after my next recital and I want to gather some intelligence in advance.

Do you know anything about the extramusical inspiration of any of these pieces? Polichinelle must have something more than just the character from Goldoni, via la Comedie Francaise.

I will be looking for Rachmaninov biographies (I have not read one yet) but in the meantime, do you know anything about Rachmaninoff playing these in his early days in Russia? Are the pieces we know today revised versions, like that of the First Concerto (a vastly improved work from the original version, which was formally clumsy)? When Rachmaninov performed them, did he treat them as separate items, or like a 5-part unit? Should a period-practice conscious performance encourage or discourage applause between the pieces?

Any ideas are welcome. I have the rolls played in an electronic reproducing Bose, but would love to hear if you know of recordings you think worth noting. 3.2 of course is all over the place, but the other four are quite neglected little pieces (perhaps for a reason?)

Thanks.
IU.