Classical Piano Sheet Music to Download and Print

or to View in Your
Mobile Device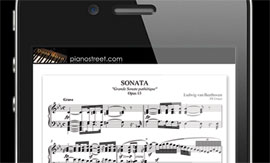 ---
Sign-up now
For instant access to the printable sheet music of
First Book of Harpsichord Pieces by Rameau
and thousands of other classical piano pieces,
sign up
for a Piano Street Gold Membership!
Jean Philippe Rameau: First Book of Harpsichord Pieces
The Premier livre de pièces de clavecin is Rameau's earliest known composition. This 1707 set opens with a Prelude followed by a group of eight dances and a "character" piece,
"La Vénetienne", perhaps an evocation of a barcarolle, or gondolier´s song. The Prelude harks back to an earlier style of improvisatory prelude cultivated by French lutenists and clavecinists, the prélude sans mesuré (without strict rhythm).
Sheet Music Downloads: