Classical Piano Sheet Music to Download and Print

or to View in Your
Mobile Device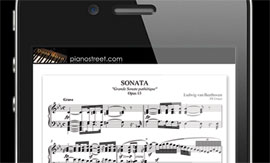 ---
Sign-up now
For instant access to the printable sheet music of
Chapters Turned Every Which Way by Satie
and thousands of other classical piano pieces,
sign up
for a Piano Street Gold Membership!
Erik Satie: Chapters Turned Every Which Way
These pieces are typical of Satie´s later, humorous and dry style. The ceaseless chatter of "The Woman Who Talks Too Much" in the first piece is represented by consistent, repeating triplets. The next piece tells the story of a "Hauler of Large Stones", struggling with a heavy rock and eventually dropping it. The third and last piece bring together two prisoners; the biblical Jonah in the whale, and the French eighteenth-century plotter and convict Jean-Henri Masers de Latude.
Sheet Music Downloads: