Classical Piano Sheet Music to Download and Print

or to View in Your
Mobile Device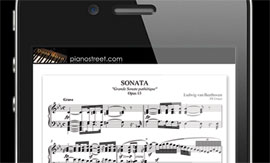 ---
Sign-up now
For instant access to the printable sheet music of
Trumpet Calls of the Rose by Satie
and thousands of other classical piano pieces,
sign up
for a Piano Street Gold Membership!
Erik Satie: Trumpet Calls of the Rose
In 1891 Satie became the official composer and chapel-master of the Rosicrucian Order "Ordre de la Rose-Croix Catholique, du Temple et du Graal". The Rosicrucians, under the leadership of the novelist and mystic Joseph-Aimé Péladan, were a sect of aesthetes whose artistic aims included the "ruin of realism," and the promotion of idealism. Satie produced this and a number of other works under the influence of Péladan and his brotherhood, but later distanced himself from this rather bizarre and eccentric group.
Sheet Music Downloads: