Classical Piano Sheet Music to Download and Print

or to View in Your
Mobile Device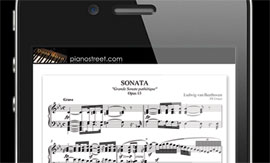 ---
Sign-up now
For instant access to the printable sheet music of
Six Little Piano Pieces by Schoenberg
and thousands of other classical piano pieces,
sign up
for a Piano Street Gold Membership!
Arnold Schoenberg: Six Little Piano Pieces
The first five pieces of Op. 19 were composed in a single day, February 19, 1911; the sixth followed on June 17.
These very brief and compact pieces are a sort of musical equivalent of aphorisms: the longest of the set, No. 1, encompasses no more than 18 measures. Schoenberg here experiments with the construction of ideas that are complete from the outset and require no development. This method of composition would have a great influence on Schoenberg´s pupil, Anton Webern.
Sheet Music Downloads: