Classical Piano Sheet Music to Download and Print

or to View in Your
Mobile Device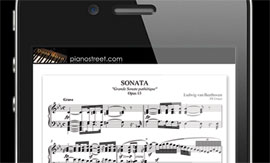 ---
Sign-up now
For instant access to the printable sheet music of
Moments Musicaux by Schubert
and thousands of other classical piano pieces,
sign up
for a Piano Street Gold Membership!
Franz Schubert: Moments Musicaux
The Moments Musicaux were published only a few months before Schubert's death in 1828. Most of them were composed during 1827 or 1827, with the exception of Nos. 3 and 6, dating from 1823 and 1824 respectively.
It is likely that the title Moments Musicaux originated from the publisher rather than from Schubert himself (in fact, the original publisher's title was the grammatically nonsensical "Momens Musicals").
One of the most popular pieces of the set, No. 3, has occasionally been labelled "Air Russe".
Sheet Music Downloads:
Posts in the piano forum about Moments Musicaux by Schubert:

Moments musicaux

December 10, 2009, 09:39:44 PM by highcrappile


Its one of my favourites by far but I have a hard time deciding on a tempo. The piece seems to completely change in character when it changes tempo. It says allegro moderato. But whos to say what allegro moderato is?
As long as the jumping notes (notes before you strike the main, like the first Bb before the Ab) feels smooth.
I have at least four different ways I like to play. Walking tempo seems natural. A bit faster (allegro) seems interesting, though it doesn't need it. Completely free form works as long as the sections are held together. Slow like andante works for me as long as the jumping notes gives it life.
I have no idea how to play it, I just know I love the song. Haven't heard many ppl play it though, just learned it trough the score. Horowitz on youtube seems to agree with the way it is sounding in my head. Maestro changes the tempo a lot but I think that his tempo should be classified as walking with a little bit of kicking gravel along the side of the road.
What are your thoughts? I just started learning piano at a venerable age so Id really appreiate some input.