Classical Piano Sheet Music to Download and Print

or to View in Your
Mobile Device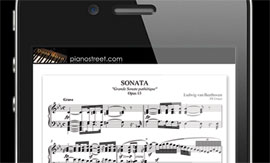 ---
Sign-up now
For instant access to the printable sheet music of
Four Fugues by Schumann
and thousands of other classical piano pieces,
sign up
for a Piano Street Gold Membership!
Robert Schumann: Four Fugues
The four fugues were written in a critical stage of Schumann's life, the quiet years during the mid-1840s. In 1845, his diaries state that as soon as he began to work he was seized with fits of shivering and an apprehension of death, which was exhibited in an abhorrence for high places, for all metal objects, and for drugs.
He also suffered perpetually from imagining that he had the note A5 sounding in his ears.
Sheet Music Downloads: