Classical Piano Sheet Music to Download and Print

or to View in Your
Mobile Device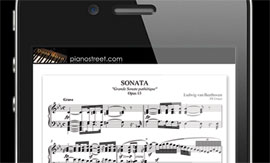 ---
Sign-up now
For instant access to the printable sheet music of
Seven Pieces in Fughetta Form by Schumann
and thousands of other classical piano pieces,
sign up
for a Piano Street Gold Membership!
Robert Schumann: Seven Pieces in Fughetta Form
Schumann´s engagement with Bach was perhaps even more extensive and varied than that of Mendelssohn, whose name is usually the one mentioned in this connection.
Schumann pursued various analogies between the keyboard fugue and the short romantic piano piece, but also wrote pure examples of Bachian polyphony – in fact it seems to have given him some relief at times of psychological crisis.
Sheet Music Downloads: