Classical Piano Sheet Music to Download and Print

or to View in Your
Mobile Device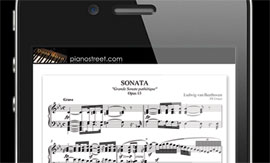 ---
Sign-up now
For instant access to the printable sheet music of
Sonatas for the Young by Schumann
and thousands of other classical piano pieces,
sign up
for a Piano Street Gold Membership!
Robert Schumann: Sonatas for the Young
The three Sonatas for the Young were composed in 1853, but not published until twenty years after Schumann's death. Each bears a dedication to Schumann's three eldest daughters; the first to Julia (born in 1841), the second to Elise (born in 1843) and the third to Maria (born in 1845).
Sheet Music Downloads: