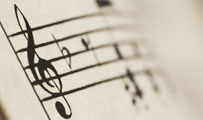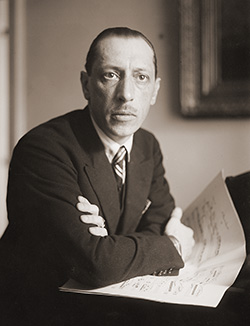 Stravinsky - Piano Music
One of the most influential artists of the 20th century,
Igor Stravinsky
(1882-1971) was brought up in St Petersburg, the son of a bass singer at the Mariinsky Theatre. As a child he showed great enthusiasm for music; his first encounter with an orchestra, in a performance of Tchaikovsky's
Sleeping Beauty,
fascinated him tremendously. He had piano lessons and tried composition, but also entered law school to fulfil his parents' wishes. However, after his father's death Stravinsky spent most of his time on his music, and only obtained a half-course diploma. He went on to study composition privately with
Rimsky-Korsakov
, who became his main mentor. The works that first made Stravinsky internationally famous were three ballets commissioned by the impresario Sergei Diaghilev and performed by Diaghilev´s Russian Ballets in Paris:
The Firebird
(1910),
Petrushka
 (1911), and
The Rite of Spring
(1913). The premiere of the latter work provoked a notorious riot and gave Stravinsky an enduring and well-earned reputation as a musical revolutionary pushing the boundaries of music.
During the First World War Stravinsky lived in Switzerland; in 1920 he moved to France. Musically, Stravinsky´s Russian period now came to an end, and he entered his neo-classical phase, making use of traditional forms and paying tribute to older masters. Works as diverse as the ballet Pulcinella (1919-1920), the Symphony of Psalms (1930) and the opera The Rake´s Progress (1948-1951) belong to this group of works and had a tremendous influence on younger composers, not least in America, where he lived from 1940. In the 1950s Stravinsky adopted serial procedures, making novel and original use of these techniques over his last twenty years. Stravinsky´s compositions of this period share traits with all of his earlier output: rhythmic energy, melodic ideas constructed out of a few two- or three-note cells, and extreme clarity of form and instrumentation. Stravinsky continued to compose until just before his death at age 89. He also published a number of books throughout his career, for instance his 1936 autobiography,
Chronicles of My Life
, written together with Alexis Roland-Manuel.
Quote:
"Music is, by its very nature, essentially powerless to express anything at all."
Piano Sheet music by Igor Stravinsky to Download
| | | |
| --- | --- | --- |
| Download & Print | View in Mobile Device | For instant access to the printable sheet music of pices by Stravinsky and thousands of other classical piano pieces, sign up for a Piano Street Gold Membership! |
Total pieces by Stravinsky: 5