Giuseppe Verdi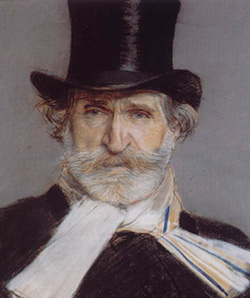 Giuseppe Verdi (1813-1901) was one of the dominating musical forces of the 19th century, and stood for some of the most far-reaching developments of the opera genre during the romantic era.
He showed early talent at the piano and began composing in his teens. He moved to Milan at age 19, to study privately with Vincenzo Lavigna, after being rejected by the city's conservatory.
In 1839 he had some success with his first opera Oberto, but then followed a difficult period with a couple of artistic failures and the deaths of his first wife and their two children.
However, only a few years later, in 1842, Verdi's first considerable success occurred with Nabucco. During the following decades, Verdi dominated Italian opera completely.
In the period 1851-1853 he wrote three of his most popular operas: Rigoletto, Il Trovatore and La Traviata.
In 1859 he married the retired soprano Giuseppina Strepponi and settled with her in Villa Verdi at Sant'Agata outside Busseto, which remained his home until Giuseppina's death in 1897, after which Verdi lived at the Grand Hotel in Milan.
After Aida in 1871 the production of new operas slowed down considerably while Verdi spent much of his time revising earlier works. He was also engaged in politics and charity – among other things he founded Casa Verdi, a home for retired singers, musicians and conductors still in use today.
Nevertheless he had enough creative powers left to write two of his finest operas, Otello (1886) and Falstaff (1893). His famous Reqiuem and the Quattro pezzi sacri (Four Sacred Pieces) are also from these later years.
There is almost no original piano music by Verdi, but the pianist can engage with his operas through paraphrases and transcriptions by Liszt and others.
Verdi Piano Sheet Music
for digital devices or to download & print
Total pieces by Verdi: 2
ID:71