Classical Piano Sheet Music to Download and Print

or to View in Your
Mobile Device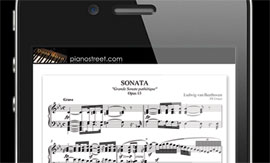 ---
Sign-up now
For instant access to the printable sheet music of
Etudes by Bartók
and thousands of other classical piano pieces,
sign up
for a Piano Street Gold Membership!
Béla Bartók: Etudes
In a letter written nearly two decades after the composition of these studies, Bartók admitted to a friend that "I cannot play the three Etudes. I haven´t played them – ever or anywhere – since 1918." They are contemporary with the pantomime The Miracoulous Mandarin, Op 19. With these two works Bartók entered his most radical, Expressionist phase (1918–22), influenced by Schoenberg. An important technical feature of all three studies is the alternating expansion and contraction of the hands.
Sheet Music Downloads: