Classical Piano Sheet Music to Download and Print

or to View in Your
Mobile Device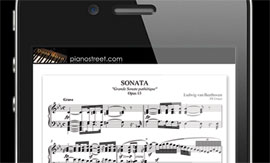 ---
Sign-up now
For instant access to the printable sheet music of
Bagatelles by Beethoven
and thousands of other classical piano pieces,
sign up
for a Piano Street Gold Membership!
Ludwig van Beethoven: Bagatelles
Beethoven's Bagatelles (or "Kleinigkeiten", "Small Things") were published in three stages, the second and third sets some twenty years after the first. The dates of publication, however, doesn't necessarily say everything about the time of composition of the individual pieces – research into Beethoven´s sketch books has shown that ideas from widely divergent periods are given form in the Bagatelles.
The pieces present a meaning-charged musical idea in a small, terse, even fragmentary, form. They probably disappointed many of Beethoven's contemporaries, who expected works on a grander scale with much better "classical balance" from such a great composer. Nevertheless, their contribution to the development of piano music in the 19th century cannot be overestimated.
Sheet Music Downloads: