Classical Piano Sheet Music to Download and Print

or to View in Your
Mobile Device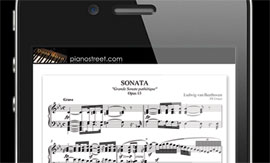 ---
Sign-up now
For instant access to the printable sheet music of
Variations by Beethoven
and thousands of other classical piano pieces,
sign up
for a Piano Street Gold Membership!
Ludwig van Beethoven: Variations
Variation form was a central feature of Beethoven's piano writing in general, from his early years until the end of his life.
The many witty transformations of popular tunes give us an insight in how it might have sounded when the young Beethoven sat down to improvise at the keyboard, while works like the Eroica- and Diabelli Variations belong to the composer's mature masterworks.
The Eroica set shares its theme, first featured in his early ballet The Creatures of Prometheus, with the last movement of the great third symphony. The monumental Diabelli Variations are based on the little waltz (originally dismissed by Beethoven as a "cobbler's patch" that Anton Diabelli sent around to fifty different composers asking them to contribute with one variation each.
Sheet Music Downloads:
| Title | AST | Key | Composed | Type | Level |
| --- | --- | --- | --- | --- | --- |
| Eight Variations on "Ich hab' ein kleines Hüttchen nur | | B-flat Major | - | Variations | 8 |
| Eight Variations on "Une fièvre brûlante" by Grétry, WoO 72 | | C Major | - | Variations | 8+ |
| Six Easy Variations on a Swiss Song, WoO 64 | | F Major | - | Variations | 6 |
| Twelve Variations on: Das Waldmädchen (a Russian Dance), WoO 71 | | A Major | - | Variations | 8+ |
| Nine Variations on a March by Dressler, WoO 63 | | C Minor | 1782 | Variations | 8+ |
| 24 Variations on " Vieni amore" by Righini, WoO 65 | | D Major | 1791 | Variations | 8+ |
| 13 Variations on "Es war einmal ein alter Mann" by Dittersdorf, WoO 66 | | A Major | 1792 | Variations | 8+ |
| Nine Variations on "Quanto è bello l'amor contadino", WoO 69 | | A Major | 1795 | Variations | 8+ |
| Six Variations on "Nel cor più non mi sento" by Paisiello, WoO 70 | | G Major | 1795 | Variations | 8+ |
| Eight Variations on "Tändeln und Scherzen" by Süssmayr, WoO 76 | | F Major | 1799 | Variations | 8+ |
| Seven Variations on "Kind, willst du ruhig schlafen" by Winter, WoO 75 | | F Major | 1799 | Variations | 8+ |
| Ten Variations on "La stessa, la stessissima" by Salieri, WoO 73 | | B-flat Major | 1799 | Variations | 8+ |
| Six Easy Variations, WoO 77 | | G Major | 1800 | Variations | 7 |
| Five Variations on "Rule Britannia", WoO 79 | | D Major | 1803 | Variations | 7 |
| Seven Variations on "God Save the King", WoO 78 | | C Major | 1803 | Variations | 7 |
| 32 Variations, WoO 80 | | C Minor | 1806 | Variations | 8+ |
| Six Variations Op. 34 | | F Major | 1802 | Variations | 8+ |
| 15 Variations Op. 35 | | E-flat Major | 1802 | Variations | 8+ |
| Six Variations Op. 76 | | D Major | 1809 | Variations | 8+ |
| 33 Variations on a Waltz by Diabelli Op. 120 | | C Major | 1823 | Variations | 8+ |