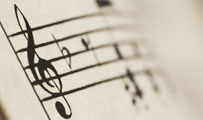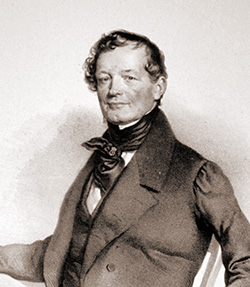 Diabelli - Piano Music
Anton Diabelli
(1781-1858) was born in Mattsee near Salzburg, where he was a choirboy in Salzburg Cathedral and later trained to become a priest. In 1800 he joined a Bavarian monastery. When Bavaria closed all monasteries in 1803 he went to Vienna, where he soon became a well-known piano and guitar teacher. To spread his popular arrangements and compositions, he started his own publishing firm in 1817, later entering a partnership with the art dealer Pietro Cappi. Cappi & Diabelli specialized in popular music for home music-making, and their most successful series, Neueste Sammlung komischer Theatergesänge, reached over 400 volumes. Diabelli kept producing own works, including the comic opera Adam in der Klemme, a number of masses and songs and many piano pieces. However, the composition for which Diabelli is best known is the little waltz on which
Beethoven
wrote his monumental
Diabelli Variations
. In 1819, Diabelli had asked every important Austrian composer living at the time, as well as several significant non-Austrians, for variations on a waltz he had written for this purpose. Fifty composers responded with pieces, including Schubert,
Liszt
(his first published composition) and
Hummel
.
Carl Czerny
wrote a coda, and the pieces were published as a sort of patriotic anthology. Beethoven, however, provided thirty-three variations which were published in a volume of their own in 1824. Another of Diabelli´s most valuable publishing efforts was bringing
Franz Schubert
into print for the first time in 1821 with the song "Erlkönig". After Schubert´s death Diabelli bought most of the late composer´s musical estate, a treasure trove of masterworks which the firm then published little by little over the next decades, so that "new" pieces by Schubert were still turning up more than thirty years after their composer´s death.
Piano Sheet music by Antonio Diabelli to Download
| | | |
| --- | --- | --- |
| Download & Print | View in Mobile Device | For instant access to the printable sheet music of pices by Diabelli and thousands of other classical piano pieces, sign up for a Piano Street Gold Membership! |
Total pieces by Diabelli: 34