The Pleyel Piano: A Key to Genuine Chopin Sound?
Hubert Rutkowski's new CD is a portrait not only of Chopin, but of the composer's favourite instrument: Rutkowski plays a Pleyel piano from 1847. In his search for a genuine Chopin/Pleyel sound he has also turned to historical recordings of Raul Koczalski and Moritz Rosenthal, students of Karol Mikuli, who was in turn a student of Chopin himself.
Songful and spontaneous
The album offers a well-rounded view of Chopin the lyricist, and the selection of pieces presents the whole spectrum of sound possibilities available to the Pleyel. The piano has a songful tone, but without the density and weight of a modern instrument, which allows you to hear all the different layers of sound very clearly. Rutkowski also manages to create a big sound in the G minor ballade, but in the coda it's clear that the Pleyel is approaching the limit of what it can convey in terms of power.
In spite of the great focus on history, there is a sense of fresh spontaneity in Rutkowski's performances. From his early-20th century role models he has picked up a special sense of freedom, and a rubato that can be surprising to modern ears, accustomed to 21st century 'standard Chopin playing'. So, is this the only true and genuine Chopin? Well, we might want to look at different portrait pictures of Chopin to get a sense of what he really looked like. In much the same way, historically informed performances like these can certainly give us a more nuanced picture.
Chopin Ballade no 1 – Piano score to download and print:

A highly sensitive instrument
The Pleyel has a so-called single escapement — a type of action which is less flexible than modern ones, but which at the same time offers a greater feeling of touch control. Rutkowski, in his detailed liner notes, agrees with Chopin that to play legato and with a singing tone on the Pleyel "is quite a challenge for the pianist. This instrument is highly sensitive to the smallest detail […] one might get the impression of a direct contact with the strings."
From a modern perspective one is easily tempted to view the evolution of the piano in the 19th century as the steady progress towards the modern Steinway. Of course, romantic composers didn't see it that way. Each of the major piano makes that existed in Chopin's time had its distinct qualities, which could be used for different musical purposes. Chopin himself used to say:
"When i feel out of sorts, I play on an Érard piano where I easily find a ready-made tone. But when I feel in good form, and strong enough to find my own individual sound, then I need a Pleyel piano."
NEW! Click the album cover to listen to the complete album.
This feature is only available for Gold members of pianostreet.com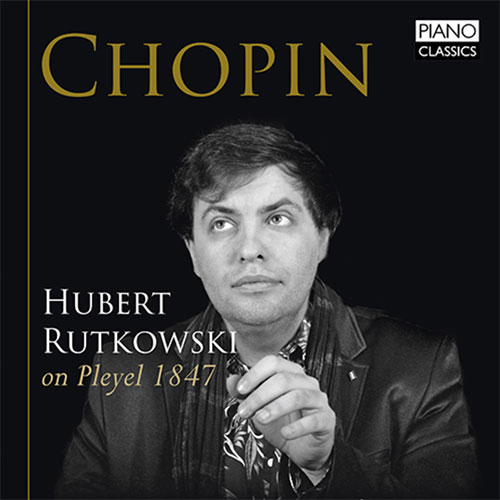 |
Play album >>
|
Download CD cover >>
|
Album content
(Click the links for piano sheet music to download and print.)
Ballade No. 1 in G Minor, Op. 23
Mazurka No. 2 in C Major, Op. 24
Étude No. 5 in G-Flat Major, Op. 10
Nocturne No. 2 in F-Sharp Minor, Op. 48
Fantaisie-Impromptu in C-Sharp Minor, Op. 66
Mazurka No. 4 in B-Flat Minor, Op. 24
Scherzo in B Minor, Op. 20
Mazurka No. 1 in B-Flat Major, Op. 7
Nocturne No. 1 in D-Flat Major, Op. 27
Polonaise in B-Flat Major, Op. 71
Mazurka No. 2 in A Minor, Op. 68
Waltz No. 1 in D-Flat Major, Op. 64