Grigori Sokolov Live at Théâtre des Champs-Élysées
"A dim light picks out the outlines of the hall. Suddenly a massive shadow appears and moves swiftly over to the keyboard, the only brightly lit surface to stand out from the large coffin-like box in the center of the stage. There follows the vaguest of unsmiling acknowledgments in the general direction of the audience, and then the music begins. Throughout the next two hours this music will keep its listeners enthralled with its extraordinary intensity as the audience senses the formidable physical, pianistic, musical and emotional presence of this most secretive of present-day pianists, Grigory Sokolov." – Bruno Monsaingeon
In 2002, Bruno Monsaingeon, internationally renowned for his films of Glenn Gould and the intriguing documentary Richter, the Enigma, made a film of a piano recital that Grigory Sokolov gave at the Théâtre des Champs-Élysées in Paris. Monsaingeon suggests that with Michelangeli, Gould, and Richter no longer alive, Sokolov may be the "greatest living pianist." In 1966 at the age of 16 Sokolov won the International Tchaikovsky Competition in Moscow.
Careerwise Sokolov didn't follow a conventional pattern and Monsaingeon suggests that Sokolov is less than world famous because he has not allowed more than a handful of his recordings — all live performances — to be released. With high integrity Sokolov objects to the studio and thus represents the secretive and eccentric. Monsaingeon says that Sokolov himself believe that the concert represents the focal point of magical life and that everything else is artificial. As a result, he was not only reluctant to be recorded but also to be filmed.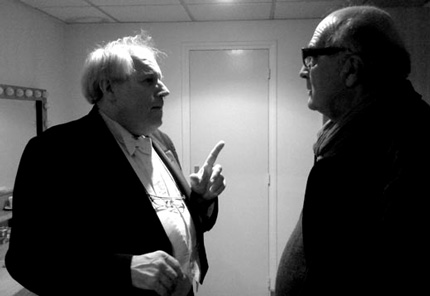 Sokolov's record company continues to record a large number of his about seventy yearly recitals even though their request to release them most of the time comes up against the same negative answer but, according to Monsaingeon, albeit tempered by the phrase "You can release whatever you want after my death"; he even suggested that his original recording company, Opus 111 (a reference to Beethoven's last sonata), change its name to "Opus posthume", a label which seemed to him to reflect perfectly his own ideas on the subject of record releases.
In spite of this, Monsaingeon was able to overcome Sokolov´s privacy and reservations and the filming in Paris on the 4th of November 2002 was accepted. Conditions were that it was made live, with no retakes and with nothing to detract from his total concentration, which was directed exclusively at the music. This meant avoiding the perceptible presence of microphones, lights and cameras.
The complete film can be watched at www.medici.tv. (Subscription required.)
Two samples:
Recital repertoire:
Beethoven: Sonata no. 9 in E major, op. 14 no. 1
Beethoven: Sonata no. 10 in G major, op. 14 no. 2
Beethoven: Sonata no. 15 in D major, op. 28 : "Pastoral"
Komitas : Six dances for piano
Prokofiev: Sonata no. 7 in B flat major, op. 83
Chopin: Mazurka in C sharp minor, op. 63 no. 3
Couperin: Le tic-toc-choc or Les maillotins
Couperin: Sœur Monique
Chopin: Mazurka in F minor, op. 68 no. 4
Bach (arr. Alexander Siloti): Prelude in B minor (after BWV 855a)
A famous venue
The Théâtre des Champs-Élysées is one of the most famous concert houses in Paris and receives each year over 300,000 spectators and thousands of collaborating artists. A milestone of French 20th century architecture the theatre was in 1953 one of the first modern buildings to receive the rank of the official "Monuments Historiques".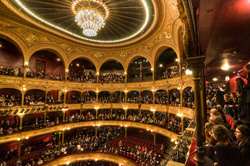 The theatre opened in 1913 and hosted Sergei Diaghilev's Ballets Russes' 5th season opening on May 15 with Igor Stravinsky's The Firebird, Nikolai Rimsky-Korsakov's Scheherazade and the world premiere of Debussy's Jeux. Some in the audiences were severely offended by the depiction on stage of a tennis game in Jeux. Still, this was nothing compared to the chaotic and tumultus reaction to the ritual sacrifice in Stravinsky's Rite of Spring on May 29. Read more at history.com