Why haven't there been any fundamental changes of grand piano design since the 1870s? Some claim it is because manufacturers are afraid of getting beaten up in the marketplace if their pianos are seen as being "experimental". Others say that musicians tend to be a conservative group of people and do not embrace radical changes to the touch or tone of their instruments. However, piano designers must take care not to drastically change the feel and sound of their pianos, but there are areas where they can innovate, such as reliability and manufacturing consistency.
Ingenia: The engineering of concert grand pianos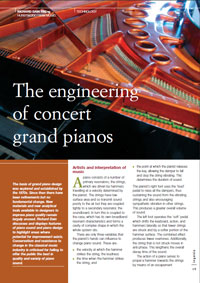 In this PDF-article from Ingenia, the Royal Academy of Engineering's quarterly magazine, Mr. Dain shares his ideas on engineering concert grand pianos. Here we can read about the pianists' three variables when it comes to changing the piano sound, the responsibilities of the piano technician, the contributions of the piano designer and useful discussions on the interior of a grand piano including case and rim, strings, frames and the action. He also discusses the future of action design. In the article we find a number of audio-graphic comparisons between Steinway and Bösendorfer which efficiently clarify the issues.
http://www.ingenia.org.uk/ingenia/issues/issue12/dain.pdf
---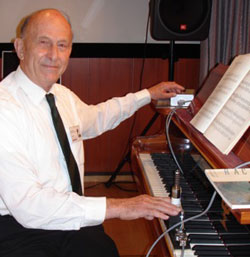 Inventor and piano technician Richard Dain is a well known personality in the field of engineering grand pianos. In 2006 he presented the PHOENIX bridge agraffe system with adjustable hitch pins, which creates a brighter harmonic spectrum, increased sustain, volume and clarity. In short the system means:
– Increased tuning stability
– The carbon fiber soundboard does not react to humidity change as do spruce soundboards, and therefore provides a much more stable soundboard for better tuning and stability.
– Increased piano durability
– The Phoenix bridge agraffes eliminate most of the approximate 1000 pounds of downward pressure on soundboards that is constant in pianos. This helps maintain a stable soundboard for longevity of the piano. The carbon fiber is also almost impervious to cracking, unlike traditional spruce soundboards.
– Greater volume and clarity
– A more "singing" piano
– Increased sustain & a brighter harmonic spectrum
– A much wider dynamic range – pppp to ffff
The PHOENIX system has been in production on Steingraeber & Söhne grand piano models since 2008 and was premiered in recording by pianist Eric Himy playing Schumann on the PHOENIX-Steingräber Grand Piano (on the Centaur label) in 2007.
/patrick