How to Keep Your Piano Keys Clean from Viruses?
The current Coronavirus pandemic brings questions to the fore about how to eliminate the spread of infectious and harmful microorganisms in our teaching or practicing spaces. One of the most burning ones is what can be done to sanitize or disinfect piano keys without harming them. Piano manufacturers advise against using any form of alcohol, but what's the alternative? And during an ongoing pandemic when public health have higher priority than material concerns, do we need to re-evaluate the advice?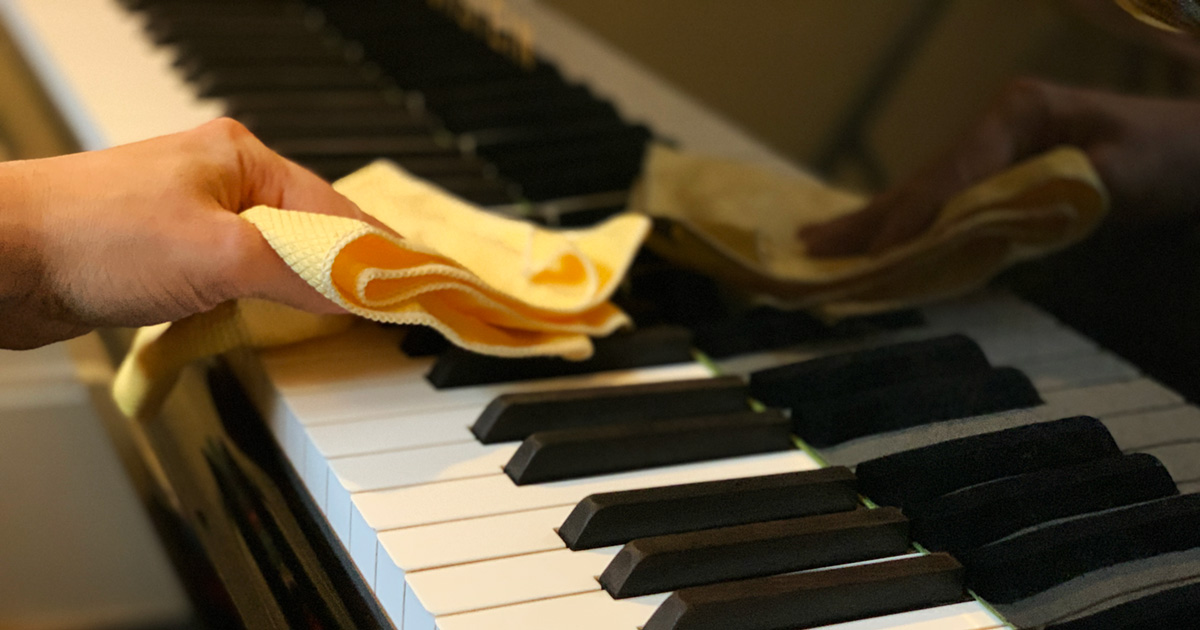 Occasionally, we all carry viral and bacterial pathogens on our hands, disease-causing organisms that are likely to end up on keyboards. As a consequence, pianos in teaching and practicing spaces, played on by many different people, risk contributing to the spread of diseases.
If teaching, it is obviously a good idea to require effective hand washing or sanitizing before and after anyone plays your piano. But this will not help against, say, any coughing or sneezing that may happen during a lesson. And when faced with a new instrument not knowing who has played it before you – what can you do to sanitize the keyboard before touching it?
How to clean piano keys?
Alcohol based disinfectants
The most efficient disinfection would generally be to use some kind of alcohol such as rubbing alcohol or denatured alcohol (methylated spirits), but be aware that this could damage the keys. It's especially risky on an older instrument with ivory keys. But as a matter of fact, both ivory (a natural polymer) and synthetic polymer key surfaces can become discolored or cracked when exposed to alcohol or other harsh chemicals used in disinfectants.
Disinfectant wipes, warm water, or vinegar?
Some piano teachers wipe their piano keyboards with various disinfectants after each student. Is this because they are unaware of the risks of damaging the instrument, or is it that they see no alternative? Or that they have done so for years, and found that the potential health benefits outweigh the potential risks for the instrument?
Some recommend using a solution of water and vinegar, but science is still very scarce on vinegar's effectiveness as a disinfectant. Clearly, it's not nearly as effective as chemical products. And you need to allow at least a half-hour of exposure. Also, one would think vinegar a more gentle alternative for ivory keys, but this is not the case. If your keys are plastic, vinegar won't hurt, but when dealing with ivory, avoid it altogether.
If you want to be really gentle on the keys, you could simply wipe them down with a damp cloth (NB. damp, not wet – nothing spells destruction for a fine instrument like moisture damage). This will not kill viruses and germs but hopefully removes them physically. It's far less likely to damage the keys than disinfectants, but probably less effective.
The polymer chemist's approach
John M. Zeigler, Ph.D., a polymer chemist also interested in music, has tackled the problem of disinfecting piano keys safely in his article "Piano Hygiene in the Teaching Studio". Zeigler found that certain disinfecting wipes (with so-called 'quaternary ammonium chlorides' as active ingredients) should be safe for use on piano keyboards, because they contain mostly water and only a very small amount of the disinfectant. Nevertheless, he recommends wiping with a damp cloth afterward to remove disinfectant residues. He also issues a word of warning: Unless you can understand the nature, chemical reactivity and purpose of the label ingredients for a cleaning product, avoid using it on your piano.
Don't forget to wash your hands!
New recommendations from PTG
Piano Technicians Guilds has recently published the document "Covid-19 and Piano Care".
Their general recommendations are:
Use alcohol-based disinfectants, do not use bleach-based disinfectants or any product containing citrus.
If using a spray or liquid bottle, use a disposable towel like WYPALL L30. Put the disinfectant on the towel and not the piano.
After use, immediately put the towel or disinfectant hand wipe in the trash and wash your hands as the CDC recommends. Do not use reusable towels or cloths which could spread germs to your kit or the next customer.
Always follow up with a dry towel and never leave any liquids on the piano or keys.
What about coronavirus specifically?
Centers for Disease Control and Prevention gives, on their page Coronavirus Disease 2019 (COVID-19) > Clean & Disinfect, the following advice that can be relevant for disinfection, not considering possible harm on musical instruments:
"Current evidence suggests that novel coronavirus may remain viable for hours to days on surfaces made from a variety of materials. Cleaning of visibly dirty surfaces followed by disinfection is a best practice measure for prevention of COVID-19 and other viral respiratory illnesses in households and community settings."
"For disinfection, diluted household bleach solutions, alcohol solutions with at least 70% alcohol, and most common EPA-registered household disinfectants should be effective."
To summarize
It's not as easy as you might think to find a quick, effective way to disinfect or sanitize the keyboard, which is also completely safe for the piano keys. At the end of the day, the best recommendation would probably still be for everyone to wash or sanitize their hands carefully, both before and after playing, since it's unlikely that any keyboard will be 100% virus-free. While playing, avoid touching your face, picking up your phone, etc. Add to this a wipe down the keys with a simple damp cloth before and after every playing session.
For a more thorough disinfection of the keyboard, you could go about like this:
1. Wipe the keys with a cloth dipped in a solution of soap and warm water and wrung out well.
2. Remove soap residue with a damp cloth.
3. Use some kind of trusted disinfectant with a low concentration of the active ingredient.
4. Leave disinfectant residue for 30 seconds to a couple of minutes before removing it with a damp cloth.
---
Links and resources:
Centers for Disease Control and Prevention:
Coronavirus Disease 2019 (COVID-19) > Clean & Disinfect
BBC Future: Covid-19: How long does the coronavirus last on surfaces?
BBC News: Coronavirus: How to clean your smartphone safely
(Gives a hint about how effective soap and water is on coronavirus.)
Steinway Los Angeles recommends 70% alcohol to clean the keys.
Steinway & Sons main Facebook page recommends hydrogen peroxide.
"Piano Hygiene in the Teaching Studio" by polymer chemist John M. Zeigler, Ph.D.
As user ardith in Piano Forum points out, it is difficult to get a clear answer about what chemicals to use.
Do disinfectant chemicals such as isopropanol damage piano keys?
---
Related reading:
Coronavirus Etude – A New Viral Piano Piece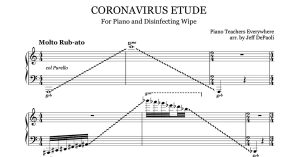 A classic viral piano piece, "Dusting the Piano" has finally got a follow-up. While Dusting the Piano should be managable for players of ABRSM grade 1 and suitable for performances during less critical times, the new Coronavirus Etude is more complex (around ABRSM grade 5) and aimed to be more effective against viruses.
---
Reader question:
How do you keep your piano keys clean?
Please post your reply below!