Master Teacher Wijn is Growing Flowers and Plants
In part one of a three-part special on building a career as a professional pianist, Piano Street's guest writer Alexander Buskermolen spoke with Holland's most prominent pedagogue, Professsor Jan Wijn (b.1934).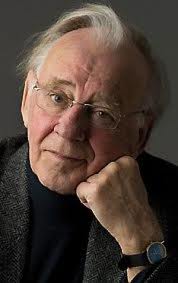 He has been responsible for training many of Holland's top pianists such as Ronald Brautigam, Hannes Minnaar, Nino Gvetadze, Paolo Giacometti, Thomas Beijer, Paul Komen, Ivo Janssen and many others.
Jan Wijn has taught piano at the Conservatory of Amsterdam for more than 45 years, so he is the perfect authority to guide us in our quest for the perfect path in piano education leading to a successful career in music.
Alexander Buskermolen: Professor Wijn, to start off our conversation on building a successful career on the stage, could you name a few "ingredients" that all pianists should have in order to get accepted for studies in a professional music program? In what areas do you find certain differences among pianists?
Jan Wijn: First of all, it's extremely important that these young musicians have a passion for music, and more specifically, a passion for playing the piano. There are many people who love music, but there's only a handful that are sufficiently talented in playing an instrument. Only these very talented young pianists who 'live and breathe' (piano) music should aim for a professional music education.
The people who do get accepted at a conservatory should be very clear about their ambitions. Do they want to become performance focused musicians or do they want to become teachers? Even though many people will claim the first, here in The Netherlands we are in desperate need of the latter: well-educated and talented piano teachers. Performing in concert at the highest level, and pursuing an international career on stage is only possible for the extremely gifted pianists.
AB: You've been holding a teaching position at the Conservatory of Amsterdam for over 45 years, and you've been teaching for more than 50 years: How would you describe the entrance level at the piano department during this timeframe? And which aspects of piano playing have been more or less emphasized during these past 50 years?
JW: The level of entry at the conservatory, especially here in Amsterdam, has clearly risen to a new standard. To give you an example: about twenty years ago it was customary to play Cramer and Czerny etudes at auditions for admittance into a professional music program. Today we get to hear very well executed etudes by Chopin. Another example: the exam that 1st year students do in order to continue to the 2nd year, consists of pieces that would normally have been played for a Bachelor's exam.
Both examples underline the ongoing process of better achievements at earlier ages. You see this in sports, in chess, in business and of course in music. Everybody knows the examples of child prodigies playing incredibly difficult music at the age of 12. For most of these exceptional talents, the focus has been on achieving a technically perfect execution of the music. It's even rarer to find those child prodigies that possess both technical perfection and a deep musical understanding at a young age.
AB: Is there in your opinion a perfect path in piano education, starting off at the very first piano lesson, progressing on untill graduation from a professional musical curriculum?
JW: It's very difficult to describe one specific path considering the fact that all students have their own backgrounds, talents and weaknesses. In general you need to be lucky enough to start your lessons at a young age and with an excellent teacher. For all the different parts of your musical path you need to have the right teacher who can accompany you to, in the end, to musical independence. Ideally the first piano teacher will provide for a broad basis in which all fundamental elements are represented, such as reading notes, rhythmical precision, feeling for different styles and of course general piano technique. After this first, quite demanding acquaintance with the piano, normally it's time to change teachers. If the student is both talented and ambitious, the aim should be to find a teacher who teaches the 'young talent classes'. Such a teacher can fully prepare the student for a professional study in music. He/she will be able to make good choices in repertoire, especially to enhance the student's technical capabilities and also mentally prepare the student for a career in music.
A second possibility, though not occuring that often, is to find an excellent teacher, if the student is lucky enough, in the vicinity of their home, which enables the teacher to work with the student all the way up to the audition at a conservatory. In The Netherlands we unfortunately do not have a set structure to offer to our young gifted musicians. This has to do mainly with politics and the low priority that musical education has these days. The 'Russian model', so to speak, that is used in Moscow is something that I believe will not work over here. There's a different mentality when it comes to educating gifted children. In a way it's a pity, but I just don't see it happening here. Yes we do have a lot of musical talent in our country, but great international success is very rare. For example, in the past thirty years, only two Dutch pianists made it into the finals of the Queen Elisabeth Competition. Rian de Waal in 1983 and more recently, Hannes Minnaar in 2010. No Dutch pianist has ever won at the Chopin or Tchaikovsky Competition… (Editor's note: Jan Wijn himself won first prize at the International Piano Competition at Orense, Spain in 1960.)
AB: Are you teaching every single student with a personal tailor-fit goal in mind?
JW: When I started teaching some 50 years ago, I held on to certain dogmas about piano playing and repertoire. If I look back on my career as a teacher, I now see that these fixed ideas have been replaced by a more holistic approach: with each individual student I simply choose which area needs attention in their development. It's like growing flowers and plants: sometimes they just need a little bit of water or fertilizer, the growing they just do by themselves.
AB: If you had to make a list of obligatory composers that should be played during the first couple of years of piano lessons for a child, which composers would be on that list?
JW: Before I make such a list, I think it's good to divide the children into two groups: the ones that just want to play music for fun, not focusing on specific challenges and flawless results, and the other group obviously being the ones that have the ambition to pursue a career in music, or at least want to try to achieve the best results possible in terms of piano technique and 'correct' musical execution. Let's focus on this second group.
Two absolutely essential musical styles are the polyphonic and Viennese classics. This means playing J.S. Bach (and contemporaries) and Haydn, Mozart and Beethoven. In an earlier stage of development you can play the sonatinas of Kuhlau and Clementi. The composers Stephen Heller and Walter Carrol I love to incorporate in the piano curriculum. With all of these composers the challenge is to play them as cleanly as possible, and with all the correct phrasings and style elements. Even though striving for clean and beautiful playing, I've seen that many of the gifted students I've worked with (mainly the boys) are very eager to play the big, virtuoso repertoire: Chopin's Fantasy, Liszt's Etudes, Tchaikovsky's 1st Piano Concerto, etcetera. I feel that every once in a while you should 'throw them in the deep' and let them find out how this music works and relates to the other pieces they've played. However, after such a project they definitely need to go back into this disciplined approach of fine fingerwork and clean playing of the compositions mentioned before.
AB: Are there any dogmas that you uphold from a methodical or piano-technical point of view? Maybe in terms of positioning, repertoire, mentality, studying by heart, etc?
JW: Even though many of us pianists have been raised with certain ideas about the position and shape of the hands and the way to sit at the piano, I'm very careful with stating one 'best way' to do so. There're many examples in music history where pianists (or other instrumentalists for that matter) have developed a unique and highly individual approach to the instrument. The most well know example probably is Vladimir Horowitz. His fingers were flat and 'flappy', but it worked out extremely well for him. Another example is Feuchtwanger, who is a self-taught pianist, but after receiving piano lessons at a later age, he got completely confused about his technique. Technique in my opinion is mostly personal.
On the subject of interpreting music on the other hand, I uphold very strong ideas. In my opinion, there's a lot of musical dishonesty going on. With this I mean that even young pianists make alterations to the score when it comes to dynamics or articulation. Also, the tendency to play the left and right hand unevenly is something I find very disturbing. For me it represents a misplaced feeling of security on stage. Staying close to the score is something I think is essential for an honest performance.
It's a known fact that current concert life is very demanding. In the past pianists could make a career with a relatively limited list of repertoire. These days, pianists are expected to perform a vast amount of different styles and compositions in a short amount of time. How do you prepare your students for this aspect of their artistic development?
Obviously it's important that during studies at the conservatory, the students acquire as much repertoire as possible. This will form the basis of their future concert career. However, one of my former students, Hannes Minnaar, has created a very workable situation. He has limited the repertoire for recitals per season. He'll therefore play one solo program and one or two chamber music programs allowing time, then, to be able to study new concertos and play them with several orchestras during the season. The bottom line here is that you shouldn't try to do everything at the same time, but choose your concerts and repertoire well. Play what is close to your heart and suits your style.
AB: You mentioned one of your most successful students, Hannes Minnaar (laureate QE Competition 2010). He has studied with you for approximately six years. Can you explain his 'sudden' international success, looking back at his time in your classroom?
JW: One of the aspects of Hannes' piano playing is that he's able to read the scores extremely fast. He can therefore learn new scores easily and quickly, an advantage in today's performance industry that is not to be underestimated. Besides that, Hannes has a natural curiosity for (new) music. Of course all the necessary work has been done properly to ensure his technique is flawless. But success at competitions entails simply a lot of hard work and a bit of luck. In this sense, his personality, his style of playing and choice of repertoire are to his advantage (for instance in the final round of the QE Competition 2010, Hannes played Saint Saëns' 5th Piano Concerto). There is never a guarantee for success, but it's very rewarding to see many of my students doing very well on the international concert stages.
AB: Could you name one or more aspects of musicality that you have learned from your students?
JW: In general I could say that by listening to my students, I learn that there are many approaches to musicality and ways of interpreting scores. It's not something that my students say or point out directly, but it's the consequence of being their teacher and listening to them as they play. I simply learn to be a better teacher by accepting the fact that their playing, in a way, is a reflection of my teaching methods.
Of course every once in a while I'm surprised to find new fingerings or tricks through a student. To be honest I need to say that I used to be very skillful in finding little tricks to faciliate easy solutions for big technical challenges. Also, one of positive consequences of working with very young and talented musicians is that their energy is infectious. Their approach to music and life in general often works as a personal energy boost. It keeps me young!
AB: To conclude our conversation, could you give some practical tips to the readers of Piano Street about practicing at the piano? Maybe something about starting to work on an ambitious piece such as a concerto or romantic sonata?
JW: On working with such a demanding composition, there's nothing wrong with just muddling through the entire work for a couple of days. In this way you can get a bit more acquainted with the notes. Of course you probably will have heard the piece on CD, during a live concert or on the radio. But this reading/playing through helps you to determine which passages are most demanding and requiring the most work.
After these first couple of days it's likely you're a bit annoyed with the fact that you cannot play those beautiful passages, and will give you the right spirit to start working on the piece in a more serious and strict way. During this process, it's extremely important to stay focused in an analytical way. Sooner or later (sooner is more likely) you'll run into technical challenges that require a plan on how to cope with these difficulties. Based on my experiences on working with talented youngsters, it is this process that needs the guidance and support of a good teacher.
In the end, studying all these major compositions is a process that starts with working from 'outside to inside', and then back 'outside' again. This will take time, energy and a lot of persistence. Finally, if you study correctly, all the hard work will definitely pay off.