The Trusted Magician of the Parisian Avantgarde
During 2012 many Debussy recitals were played all over the world, but do you know who played the first all-Debussy recital ever?
Marcelle Meyer (1897-1958) was a major figure in the creation of new music from her participation in Erik Satie's Parade in 1917 until her early death in 1958. She championed the works of Satie, Ravel, Debussy and Stravinsky, as well as the French Group of Six composers (Les Six), all of whom she knew personally. Her fluid phrasing, great dynamic range and lovely tone are just three of the hallmarks of her rare and individual playing.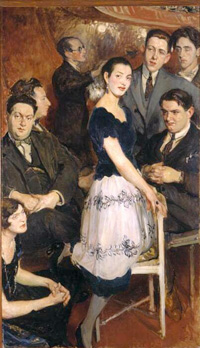 "Marcelle Meyer was, without a doubt, one of the most important pianists of the 20th century. She was a woman of tremendous influence. The favourite pianist of Les Six, she is featured as the central figure in a portrait of that group and Jean Cocteau by Jacques-Emile Blanche. She played the private premiere of La Valse with Ravel at the other piano, and worked with Debussy himself on his Préludes and gave the first ever all-Debussy recital. When Stravinsky met her, he said, "Ah yes, Ravel spoke to me about you," and she subsequently performed in the premiere of Les Noces, and Petroushka, without rehearsal and completely to the composer's satisfaction. Milhaud and Poulenc were among the many other composers who respected her and with whom she performed. Given her involvement in early 20th century piano music and her much admired playing, it seems strange that, to date, no biography has been written about this outstanding woman."
– Mark Ainley
In her day Marcelle Meyer was the doyenne of French piano. Cortot admired her and she performed with the likes of Ravel and Couperin. She had a vast repertoire that extended from the Baroque to contemporary composers like Stravinsky and she left a considerable recorded legacy.
In 2007 EMI released an absolutely complete edition of Marcelle Meyer's studio recordings, remastered from scratch, utilizing the best possible source material and modern technology.
EMI France's 17-CD set Marcelle Meyer: Ses Enregistrements 1925-1957 has elicited great recognition in the media and has won major music awards such as Dipasson d´Or in 2008.
Debussy, Ravel and Stravinsky
Marcelle Meyer met Debussy at the premiere performance of Erik Satie's Parade, for which she was the pianist. To give you an idea of the production: the mise-en-scene was by Jean Cocteau, the sets were painted by Picasso, and the choreography was by Leonide Massine, with orchestra conducted by Ernest Ansermet – the 20-year-old Marcelle Meyer was the pianist. Debussy was present at this event, which took place in 1917, just under a year before he died.
Meyer is said to have been coached by the ailing Debussy in how to play his Preludes, and certainly her playing is unique in its combination of impressionistic colours and timing. Meyer also studied with Ricardo Viñes, who had premiered several of the composer's works, and she clearly had insight into his art. While she recorded the two books of Debussy Preludes in 1957 – a recording that was unissued until 1989 – she (had previously) also committed three of them to disc in 1947, among them an incredible "La terrasse des audiences au claire de lune" in which time seems to stand still. Hear Meyer play this Prelude below followed by "L'isle Joyeuse".
Meyer plays Debussy:


La terrasse des audiences au claire de lune


L'isle Joyeuse
Meyer plays Ravel:


Jeux d'eau


Gaspard de la Nuit (Ondine)
Meyer plays Stravinsky:


Trois Mouvements de Petrouchka