Visiting Chopin in Valldemossa
Summer means vacation time and for many also traveling places. There are countless opportunities to enjoy wonderful music during summer festivals or embark on thrilling visits to historical venues that our esteemed composers and musicians once frequented. While on vacation in Mallorca, Piano Street's Patrick Jovell took a quick visit to Frédéric Chopin's Valldemossa.
The Royal Charterhouse of Valldemossa was built at the beginning of the 14th century. Since the 19th century it has been promoted internationally as a place of outstanding beauty, largely as a result of the affection of distinguished traveller and cultural writer, the Austrian Archduke Ludwig Salvator.
The Story
In the autumn of 1838 Chopin suffered from a bothersome cough and the doctors recommended a trip to a warm, sunny place. So, on November 8, after seven days of travel, Chopin and his lover – the French writer Amantine-Lucile-Aurore Dupin, better known as George Sand – arrived in Mallorca. At first, they stayed in Palma de Mallorca and then at the Charterhouse in Valldemossa, where they rented monastery cell No. 4. It consisted of three small rooms and a terrace with a beautiful mini garden. The couple traveled with with Sand's two children and the stay lasted until February 11, 1839.
The winter 1838/1839 in Mallorca was extremely cold, rainy and nasty and Chopin's health deteriorated significantly. Over time, it became clear that he suffered from tuberculosis.
Chopin's Cell No. 4 Pianos
Valldemossa has become a popular destination for over 300 000 tourists and music lovers annually. The cell No. 4 contains a collection of souvenirs and memorabilia including musical autographs, first editions, letters and Chopin's piano, a Pleyel with serial number 6668 bought for the stay in Paris by Chopin (costing him 1 200 francs – approx. 7 800 USD in today's money value).
Unfortunately, due to delays and the customs in Palma, this piano arrived only at the end of Chopin's visit and therefor a low quality local piano constructed by an unknown carpenter, Juan Bauza was borrowed and used by Chopin during his stay. This instrument was later acquired by legendary pianist Wanda Landowska in 1917 and has a fascinating story by its own right, wonderfully narrated by Paul Kildea in his book "Chopin's Piano" (2019).
https://www.penguin.co.uk/books/280200/chopins-piano-by-paul-kildea/9780141980560
https://www.google.se/amp/s/pursuit.unimelb.edu.au/articles/chopin-the-nazis-and-the-spanish-piano.amp
Upon leaving Mallorca, Chopin sold his Pleyel to the Canut family who eventually let the instrument come to public view in cell No. 4 since 1932.
Not Only Preludes
It is impossible to complete a list of compositions that Chopin wrote while in Mallorca. Many were started before leaving for the island, some were composed there and others he began there, and were finished later. In the period between October 1838 and February 1839, Chopin wrote the Preludes Op. 28, probably most of them in Valldemossa and for sure No. 1 in C-major, No. 2 in A-minor, No. 4 in E-minor, No. 10 in C-sharp minor, No. 15 in D-flat major and No. 21 B flat major. Furthermore, other works completed there: Polonaise in C-minor, Op. 40, Mazurka in E-minor, Op. 41 No. 2, Scherzo in C-sharp minor, Op. 39 (drafts), Nocturne in G-minor, Op. 37, No. 1 (started in Paris), Tarantella Op. 43 (draft), Sonata in B flat minor, op. 35 (besides the Funeral March which was composed at least two years earlier), the Ballade in F-major, Op. 38 (started in 1836), the Polonaise in A-major, Op. 40, No. 1 (corrections).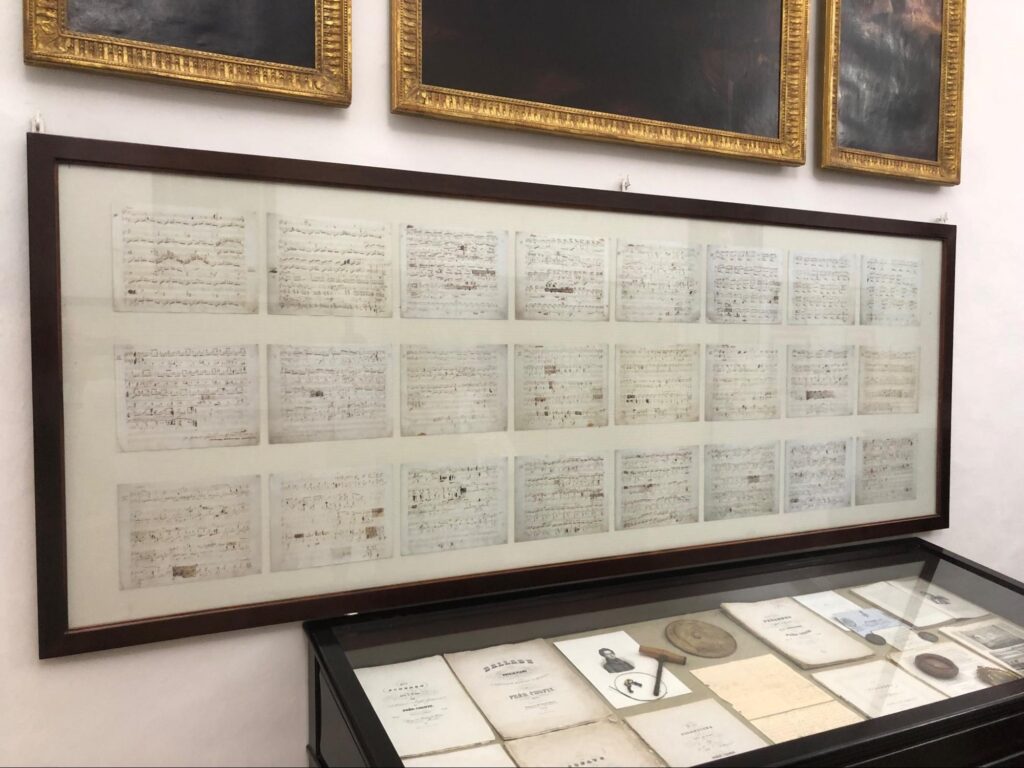 Very striking for the visitor, copies of autographs of all twenty-four preludes are framed and hanging on the walls of the cell and give a strong connection to the creativity which took place in this room.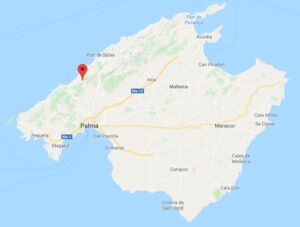 Valldemossa is best reached by rented car or bus 203 and the distance is approx. 20 km from Palma de Mallorca.