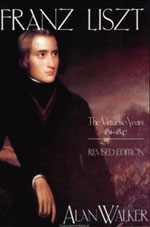 Alan Walker's three-volume biography of Franz Liszt, which took him 25 years to complete, has been very influential. Common adjectives attached to the work include "monumental" and "magisterial" and it is said to have "unearthed much new material and provided a strong stimulus for further research". Walker himself says that when he found, as a BBC producer compiling notes for program announcers, that "there wasn't a decent book in English on Liszt", he eventually decided to write one himself, but was determined "not to make a major statement that couldn't be supported by documents …and because Liszt himself was a traveler the archives were everywhere."
The final volume of Walker's monumental study (Franz Liszt, Vol. 1: The Virtuoso Years, 1811-47, Franz Liszt, Vol. 2: The Weimar Years, 1848-61, Franz Liszt, Volume 3: The Final Years, 1861-1886) draws upon some recent scholarship to present a more complete picture of Liszt's life and achievements than had been previously possible. Liszt's remarkably peripatetic existence creates manifold challenges for the conscientious scholar but Walker is more than equal to the task. His narrative is copiously footnoted yet never seems to bog down in minutiae. In fact, quite the opposite: the prose is so lively that the reader is often swept along by the narrative.

A particularly fascinating section concerns the infamous Cosima Liszt-Hans von Bülow-Richard Wagner triangle, which is skillfully dissected by Walker to separate legend from accurate history. Liszt emerges as an unmistakably generous and self-effacing man in his later years whose prodigious gifts as a composer and pianist were undimmed until the very end. Walker provides frequent musical examples throughout, and his comments on them are not too technical for the general reader. Walker's meticulously researched and engagingly written book is well illustrated and contains numerous musical examples and insightful analyses. It is an impressive conclusion to a biography that should become the standard work on its subject.

"A conscientious scholar passionate about his subject, Mr. Walker makes the man and his age come to life. These three volumes will be the definitive work to which all subsequent Liszt biographies will aspire."
– Harold C. Schonberg, Wall Street Journal

"What distinguishes Walker from Liszt's dozens of earlier biographers is that he is equally strong on the music and the life. A formidable musicologist with a lively polemical style, he discusses the composer's works with greater understanding and clarity than any previous biographer. And whereas many have recycled the same erroneous, often damaging information, Walker has relied on his own prodigious, globe-trotting research, a project spanning twenty-five years. The result is a textured portrait of Liszt and his times without rival."
– Time Magazine
"If you want the single best study of Franz Liszt, and one at a surprisingly reasonable price at that, Alan Walker's study is the one to get. It has won numerous awards, understandably, and can be recommended without a moment's hesitation. It's a long undertaking to read from 1811 (or rather, from the chapters on Liszt's family background) to his death (and, again, the musical context of his surviving family members). But it's also sufficiently readable to make even bedtime reading as much as responding to the work as a scholarly study. Enjoyable. Illuminating. Gripping. Definitive."
– Classical Net
Books in the series, available from Cornell University Press:
Franz Liszt, Vol. 1: The Virtuoso Years, 1811-47
Franz Liszt, Vol. 2: The Weimar Years, 1848-61
Franz Liszt, Volume 3: The Final Years, 1861-1886
---
Two new Liszt books by Walker (2011):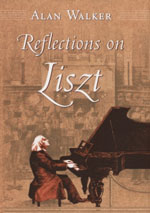 In a series of lively essays that tell us much not only about the phenomenon that was Franz Liszt but also about the musical and cultural life of nineteenth- century Europe, Alan Walker muses on aspects of Liszt's life and work that he was unable to explore in his acclaimed three-volume biography of the great composer and pianist. Topics include Liszt's contributions to the Lied, the lifelong impact of his encounter with Beethoven, his influence on students who became famous in their own right, his accomplishments in transcribing and editing the works of other composers, and his innovative piano technique. One chapter is devoted to the Sonata in B Minor, perhaps Liszt's single most celebrated composition.
The Death of Franz Liszt
– Based on the Unpublished Diary of His Pupil Lina Schmalhausen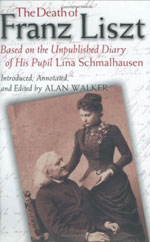 "If only I do not die here." After falling ill during a visit to Bayreuth, Franz Liszt uttered this melancholy refrain throughout his final days, which were spent in rented rooms in a house opposite Wahnfried, the home of his daughter Cosima and his deceased son-in-law Richard Wagner. Attended by incompetent doctors and ignored and treated coldly by his daughter, the great composer endured needless pain and indignity, according to a knowledgeable eyewitness. Lina Schmalhausen, his student, caregiver, and close companion, recorded in her diary a graphic description of her teacher's illness and death. Alan Walker here presents this never-before-published account of Liszt's demise in the summer of 1886.
/patrick