The Pollini Project – charting the development of piano music from Bach to Boulez
Maurizio Pollini, appearing as part of the International Piano Series at London's South Bank, will perform five recitals between January and May of music from Bach to modernism, described as "personal journey through four centuries of piano repertoire".
Read the interview in the Guardian
---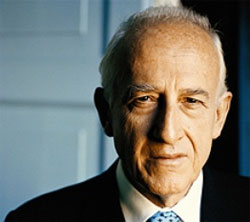 The Pollini Project, program:
28 January
Bach: The Well-tempered Clavier, book 1
15 Fabruary
Piano Sonata in E, Op.109
Piano Sonata in A flat, Op.110
Piano Sonata in C minor, Op.111
26 February
Schubert:
Piano Sonata in C minor, D.958
Piano Sonata in A, D.959
Piano Sonata in B flat, D.960
19 April
Chopin: 24 Preludes, Op.28
Debussy: Etudes, Book 2 (Nos.7-12)
Boulez: Piano Sonata No.2
25 May
Stockhausen: Klavierstuck VII & IX
Schumann: Concert sans orchestre (First version of Piano Sonata in F minor, Op.14)
Chopin: Prelude in C sharp minor, Op.45
Barcarolle in F sharp, Op.60
Ballade No.4 in F minor, Op.52
Berceuse in D flat, Op.57
Scherzo No.2 in B flat minor, Op.31
---
Maurizio Pollini Hong Kong interview by RTHK – The Works, 14 April 2009:


---
Maurizio Pollini was born in Milan on 5 January 1942. His father was the famous architect Gino Pollini, one of the leading representatives of Italian rationalism and also an expert violinist. His mother, Renata Melotti, studied piano and singing and was the sister of the well-known sculptor Fausto Melotti, who had a lasting influence on the young Pollini.
In 1948 Maurizio Pollini received his first piano lessons from Carlo Lonati. From 1955 until 1959 he continued his studies with Carlo Vidusso and in 1958 he began to study composition with Bruno Bettinelli. In 1960 he was awarded first prize at the International Chopin Competition in Warsaw and appeared at La Scala playing Chopin's First Piano Concerto under Celibidache. Since then Pollini has become one of the most admired and respected pianists of our time and has appeared all over the world with leading orchestras and conductors. He is particularly renowned for his innovative concert programmes which champion works by contemporary composers and contrasts these with those of the Classical and Romantic eras. An exclusive Deutsche Grammophon artist for four decades, his recordings have won innumerable awards, including Gramophone and Echo Awards, Diapason d'or, Record Academy Prize, Tokyo, and Stella d'oro as well as two Grammys®.