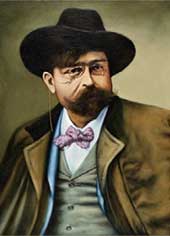 Even though Isaac Albéniz actually never composed any music for guitar much of his piano music is part of the standard guitar repertoire.
Asturias (Leyenda), the fifth movement from Suite Española, opus 47, is one example.
He sometimes retitled movements and reused them in later works and this piece is also the first movement ("Prelude") of his collection "Cantos de España"
Albéniz music is of great rhytmical and virtuosic style and often influenced by the Spanish folk music and locations.
Today we have added 21 of Albéniz's  piano compositions to our sheet music library.
Among them are the very nice Tango Espagnol, The Seasons, the complete Cantos de España and Rapsodia Espagñola.
See the complete list below and enjoy this dramatic and colourful music!
Cantos de España
The Seasons
Suite Ancienne No 3
Zortzico
Aragòn
Tango Espagnol
La Vega
Rapsodia Espagñola
Barcarolle Catalene
Rapsodia Cubana – op 66
Sérénade Espagnole – op 181
Mallorca (Barcarola) – op 202
/henrik