Following a recent discussion on the forum regarding whether or not to allow announcements of piano competitions, masterclasses and recitals, we have decided to open two new sub boards of the Miscellaneous section in order to provide room for relevant and non-commercial advertisements.
Recitals
http://www.pianostreet.com/smf/index.php?board=33.0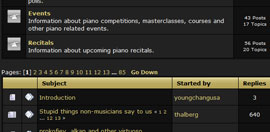 In line with Piano Street's mission to stimulate and promote live piano music performances, all members are welcome to post announcements and invitations to their upcoming piano recitals. While the global coverage of our member base will often make distance an issue if you want to attend a fellow member's recital, the 6.000+ daily unique visitor to pianostreet.com might hopefully lead to a few more people in the audience.
Events
http://www.pianostreet.com/smf/index.php?board=32.0
The event board is open for members and organization managers to post information about piano competitions, masterclasses, courses and other piano related events.
/nilsjohan