Busoni – 25 original pieces and 15 Bach transcriptions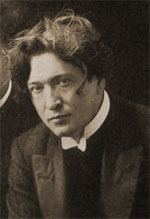 The Italian pianist Busoni's important achievements as a composer were long over-shadowed by the fact that he was generally thought the greatest piano virtuoso after Liszt.
He also made his mark as a respected teacher of both piano playing and composition, and as an editor of Bach's keyboard music. His thoughts on Bach's music have been highly influential, although his editions weren't exactly what we today would call authentic.
The solo piano versions of Bach's Toccata and Fugue in D Minor (for organ) and the Chaconne from the second Violin Partita are among his most well-known transcriptions.
True or not, the story of Busoni's wife being introduced at a function as Mrs. Bach-Busoni says a lot about how famous Busoni's Bach transcriptions were already in his own lifetime.
In spite of his interest in baroque and classical music, Busoni was certainly no backward-looking composer. In his writings he proposes the use of microtonal scales and electronics, and in 1912 he produced his first work "without tonality", the Second Sonatina.
Busoni's major keyboard work, Contrapuntal Fantasy, is based on the final, incomplete fugue from Bach's Art of Fugue.
25 original pieces by Busoni and 15 Bach-Busoni transcriptions have been added to our online sheet music library.
---
Busoni plays:
1. Bach/Busoni: Chorale Prelude (Orgel-Choralvorspiel) "Nun freut euch, lieben Christen gmein" BWV 734 (piano arrangement)
2. Beethoven-Busoni: Ecossaise WoO83 in E-flat