Gabriel Fauré's Piano Music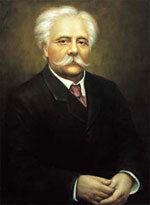 Gabriel Fauré is considered one of the most influential and gifted French composers of the late romantic and early 20th century period.
His early compositions, influenced by Chopin and his teacher Saint-Saënt, are of very romantic character while he later developed a more personal and harmonically complex musical style. The Nocturnes for example were composed over a range of 45 years and clearly reflect this developement.
The Waltz-Caprices are composed in a romantic virtuoso style and offer a profusion of fresh, charming melodies and the Barcarolles are certainly the most impressive collection of Barcarolles in the history of classical music.
43 of his most well known piano pieces have been added to the Piano Street sheet music library.
12 Nocturnes
12 Barcarolles
9 Preludes
5 Impromptus
4 Waltz-Caprices
Ballade, Opus 19
---
Marguerite Long plays Fauré Nocturne no 4 in E-flat:
Free sheet music:


An articel by George Stephen Murray about how composer Fauré's and pianist Long's careers worked together:
Gabriel Fauré's and Marguerite Long