Improvisations – New Forum Section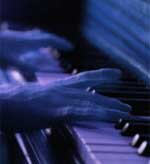 "The other day I heard Chopin improvise at George Sand's house. It is marvelous to hear Chopin compose in this way: his inspiration is so immediate and complete that he plays without hesitation as if it could not be otherwise.
But when it comes to writing it down and recapturing the original thought in all its details, he spends days of nervous strain and almost terrible despair."
– Karl Flitsch –
"In 1968, I ran into Steve Lacy on the street in Rome. I took out my pocket tape recorder and asked him to describe in 15 seconds the difference between composition and improvisation. He answered:
In 15 seconds, the difference between composition and improvisation is that in composition you have all the time you want to decide what you want to say in 15 seconds, while in improvisation you have 15 seconds.
His answer lasted exactly 15 seconds and is still the best formulation of the question I know."
– Frederic Rzewski –
---
In the history of Western music, from the medieval until the romantic period, improvisation was an important skill for all composers and keyboard players. Bach, Handel, Mozart, Beethoven, Schubert, Chopin, Liszt, and many others were celebrated for their ability to improvise.
However, while most of the composed music easily survived in its purest form, written scores, improvised music left nothing but the traces in the minds of its listeners (or, on rare occasions written descriptions such as the above quote by Flitsch). The modern conception of the history of music is probably lacking a crucial piece of the puzzle.

Consequently, in music education today and on the main concert platforms there are often distinct borders between improvising, composing, interpreting and performing, and few "classical" musicians are masters of all four trades.
Many modern jazz pianists are currently widening their musical skills and approaching the area traditionally belonging to art music. Thus, in the future, the distinction between being a "jazz pianist" and a "classical pianist" might be blurrier than it has been, not least since there also seems to be a growing interest in improvisation among classical pianists and piano teachers.
Improvisations in Audition Room
In the Piano Street forum community there is a subset of pianists exploring solo piano improvisation. In an effort to support both them and the historical tradition of keyboard improvisation we have now opened a separate section for improvisations in our Audition Room. Here you can listen to uploaded improvisations, discuss them and, not least, share your own recorded improvisations!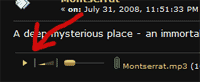 In order to make life easier for you when you listen to these improvisations and to all the other pieces in our Audition Room, we have now added an embedded mp3-player next to all the attached files. Just click the little play button and enjoy!