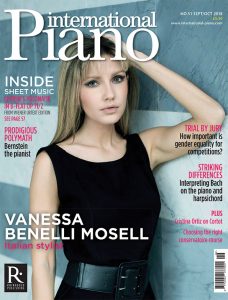 A new issue of the magazine International Piano is out!
IP meets the Tuscany-born pianist Vanessa Benelli Mosell, a protégé of Stockhausen whose playing combines technical brilliance with an impeccable sense of style; celebrating the centenary of prodigious musical polymath Leonard Bernstein; Warsaw's inaugural Chopin Competition on Period Instruments; and what insights can a harpsichordist offer pianists who play Bach?
Plus, Alice Sara Ott introduces her new album of music inspired by nightfall; developing psychological and physical awareness at the keyboard; Cristina Ortiz explores the teachings of Alfred Cortot; how to utilise the sostenuto pedal effectively; choosing the right degree for a successful career in music; gender equality in piano competitions; stride and blues master Art Hodes; Katya Apekisheva's musical influences; and sheet music from Chopin's Polonaise in B-flat major Op 71/2.

Piano Street Gold members have instant online access to the digital version of the magazine.
For print subscription, visit rhinegold.co.uk
/nilsjohan