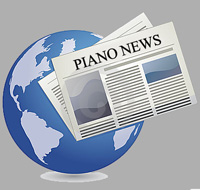 In addition to the weekly articles here on the Classical Piano Blog, Piano Street has for many years been covering the daily news flow of piano related news in a few different formats. At first we published it here in the form of monthly link collections under the name "Piano News Flash" (see example) before moving on to even more frequent updates in our Twitter Feed. While appreciated by readers, neither of these two formats have been meeting our goals from a user experience perspective.
Keep up to date on a new level
Today we are launching our new "Piano News Flash" platform which takes the concept up to a completely new level. The functionality activated today in all Piano Street members' accounts presents daily piano related news and interesting links in the form of an editorial introduction, often with links to external resources for further reading.
With the News Flash we achieve a clear and concise presentation of carefully selected news so that you, by spending no more than a minute a day, keep yourself constantly up to date about what's on in the piano world.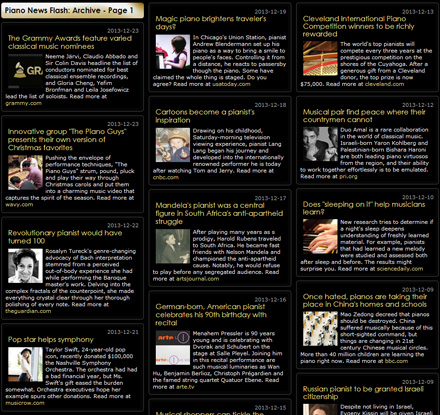 The top two news items displayed on your account dashboard are selections we believe are particularly relevant for you, depending on the setting in your account profile (beginner/advanced/teacher/professional pianist etc.). Make sure you have selected the correct profile in order to enjoy this extra benefit!
Silver members get free access to the news flash ticker placed on each member's dashboard, showing the ten most recent news items.
Gold members get, in addition to the ticker, access to the extensive reference archive containing past news, links and resources sorted into different categories.
/nilsjohan