Piano Street Receives 5-Star Excellence Award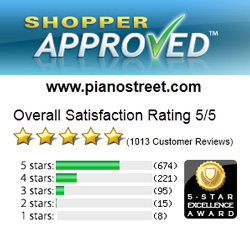 For the past year Piano Street has been using the 3rd party evaluation system Shopper Approved to track customer satisfaction. They have now collected over 1,000 ratings from paying Gold members and we are pleased to announce that due to the high level of customer satisfaction Piano Street has received the exclusive Shopper Approved 5-Star Excellence Award.
"We believe that great service should be rewarded, which is why we offer Shopper Approved Excellence Awards. Every website that maintains a 4.5 or higher average star rating across all rating criteria, and has no unresolved disputes for at least 90 days, receives the Shopper Approved 5-Star Excellence Award." — Shopper Approved
Except for star ratings in different areas such as for example product satisfaction, price and customer service users are allowed to leave comments about the service they have purchased. Here are a few of the reviews from Piano Street Gold Membership customers:
I love piano street! It's excellent. It improves my culture and my piano learning. — Adriana N, São Paulo
For a serious pianist, this is a great place. — Steve – CO, United States
My connection with Piano Street has given me valuable feedback with other pianists which I find encouraging and validating to my own experiences. I am glad to be a part of this larger communtiy. I am excited for my access to a vast supply of classical music scores. — Ivan C. – WA, United States
Worth every dime! — Richard E
Just a great site! — Todd Zhou – AB, Canada
Excellent site!Very very useful-we download pieces for both of my kids — Margot H.
It was like magic to me to sign up for pianostreet and a few minutes later have the music I wanted come out of my printer, sit at the piano and start learning the piece! — M-Claire – WA, United States
What a fabulous site!!! Music right at my fingertips! I've lost some of my music throughout the years, and sometimes I just 'yearn' to be able to play one of my old pieces. But, I'm kind of a 'spur of the moment' person, and want the music right then. This site is wonderful – it allows me to print it and have it immediately! I can also build up my repertoire again-
Thank you for establishing this site!!! — Donna Mansfield – Kirkland, Washington, USA
A very useful service & many useful articles — Ivan W.
This is a good site and my fellow piano players also have memberships to this site! — James M.
Very good source for sheet music and recordings — maestrodon
Pianostreet has marvellous collection of top quality classical music sheets. I had lost my entire sheet music collection, and have found 95 pct of my collection back at pianostreet, so thank you very much pianostreet!!! — gmalego
For more reviews and rating details, please see:
Shopper Approved Certificate – www.pianostreet.com
Piano Street's detailed ratings: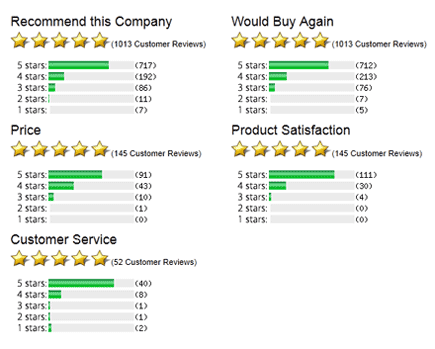 Average ratings:
Recommend this Company – 4.6
Would Buy Again – 4.6
Price – 4.5
Product Satisfaction – 4.7
Customer Service – 4.6