Anderson & Roe – When Words Fade –
Featuring Songs of the Night From Vivaldi to Radiohead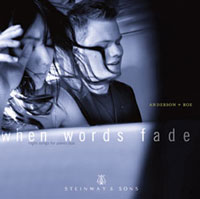 Greg Anderson and Elizabeth Joy Roe form one of the most thrilling young piano duos performing today. The debut release from Anderson & Roe on the Steinway & Sons label is a showstopper captured in spectacular audiophile-quality sound by multi-Grammy-winning producer Steven Epstein.
The pair's adrenalized concerts have been dazzling audiences around the world. Now Steinway makes 12 of their eclectic and electrifying performances available for your personal playlist. When Words Fade features original piano four-hand arrangements of vocal repertoire and popular songs by composers from Vivaldi, Rachmaninov, and Schubert to Michael Jackson, Radiohead, and Coldplay.
Packaged with the CD is a bonus DVD featuring dramatizations that re-interpret four of the wordless piano duos and their emotional potency with a modern twist.
Watch the Release Promotional Video:
More videos:
Vivaldi – A Rain of Tears
Der Erlkƶnig
The previous release (Michael Jackson's) Billie Jean
/patrick