Steinway & Sons recently announced that Vladimir Horowitz's legendary Steinway Model D continues its tour through 2014. This is a unique chance for the public to see, hear and even play the master's favorite instrument – the Steinway CD 503 – used on his tours during his last years 1985-89.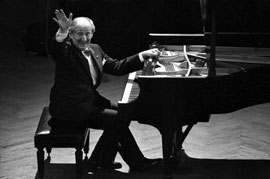 The CD 503 has a very light and extremely touch-sensitive action. It has a crashing, thunderous bass and a transparent treble. While many pianists who have tried the piano agree that the action is even and it is a pleasure to play the instrument, it is clearly not the only magic bullet required to reach Horowitz's level of artistic mastery.
Hear the master and his instrument in this legendary recital:
Recital: Horowitz in Vienna (1987)

Mozart Rondo in D, K. 485
Mozart – Sonata in B-flat, K. 333:


Mvt. 1: Allegro


Mvt. 2: Andante cantabile


Mvt. 3: Allegretto grazioso

Schubert – Impromptu in G-flat, op. 90 no. 3


Schubert/Liszt – SoirĂ©es de Vienne, no. 6
SCHUMANN – Kinderszenen, op. 15


1. Von fremden Ländern und Menschen


2. Kuriose Geschichte


3. Hasche-Mann


4. Bittendes Kind


5. GlĂĽckes genug


6. Wichtige Begebenheit


7. Träumerei


8. Am Kamin


9. Ritter vom Steckenpferd


10. Fast zu ernst


11. FĂĽrchtenmachen


12. Kind im Einschlummern


13. Der Dichter spricht

Chopin – Mazurka, op. 33 no. 4


Chopin – Polonaise in A-flat, op. 53


Liszt – Consolation no.3 in D-flat,


Schubert – Moment Musical in F minor, op. 94 no. 3


Moszkowski – Etincelles, op.26 no. 6
Documentary from 1985:

The Last Romantic (82 min.)
---
Did you know that Horowitz…
…left Russia in 1925 and did not return until his trip to Moscow in 1986. He
became an American citizen on December 14, 1945.
…is the most famous interpreter of "Rach 3". He and Rachmaninoff were best friends, and Rachmaninoff stopped performing the concerto himself when he had heard Horowitz play it. Horowitz recorded it three times.
…gave a fund-raising concert performance in 1943 of Tchaikovsky's 1st Piano Concerto, with Arturo Toscanini conducting. It was eventually released on records and CD, and has long been one of Horowitz's most treasured performances.
With that concert alone they raised $10,000,000 for the allies in the Second World War.
…was laid to rest in the Toscanini family tomb in Cimitiero Monumentale, Milan, Italy.
The long career of the last romantic
Described as the greatest pianist since Franz Liszt, Horowitz's world wide career spanned nearly 70 years since his debut in 1920. Horowitz evidently suffered from anxiety and depression which led to long career breaks, especially from 1953-65 and from 1969-74.
In 1985, Horowitz returned to concertizing and recording. His first post-retirement appearance was not on stage, but in the documentary film Vladimir Horowitz: The Last Romantic. In 1986 and as a consequence of the new relation between the USA and the USSR, Horowitz returned for the first time since 1925 for concerts in Moscow and Leningrad. Following the Russian concerts, Horowitz toured several European cities including Berlin, Amsterdam, and London. The final tour took place in Europe in 1987 and his legendary recital at the Musikverein in Vienna was documented on a video which was released by Deutsche Grammophone in 1991. His final recital, in Hamburg, Germany, took place on June 21, 1987.
Reader questions
What, besides the unique instrument, makes Horowitz's playing so exceptional?
Which is your favourite Horowitz recording?
If you have played the CD 503, what was your impression?
/patrick