Sleigh Ride – A Holiday Greeting on 440 Keys
Enjoy The Five Brown's new rendition of Leroy Anderson's joyful season's celebration wondrously arranged for five pianos!
This eternal holiday favorite was composed during a severe heat wave in the summer of 1950 and has been a fixture with holiday concerts for more than half a century. It's said that the main melody of "Sleigh Ride" was used as the main theme of Victor Young's score for the 1949 western Streets of Laredo, with no credits to Anderson. The original orchestral version included humorous sound applications such as horse clip-clopping, and a whip used to get the horse moving. A percussionist provides these sounds on temple blocks and a slapstick. Toward the ending of the piece, a trumpet imitates the sound of a whinnying horse.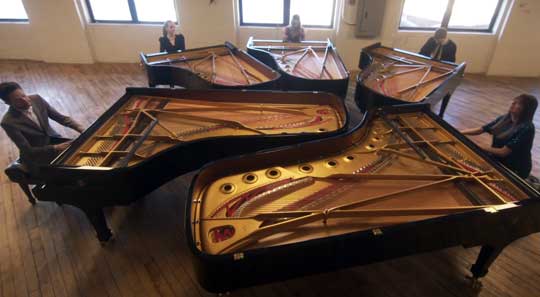 Leroy Anderson was an American composer of short, light concert music, of which many were introduced by the Boston Pops Orchestra and conductor Arthur Fiedler. Composer John Williams described him as "one of the great American masters of light orchestral music." Anderson was born to first-generation Swedish parents in Cambridge, Massachusetts and played trombone in the Harvard University Band in the late 1920s. In graduate school he studied composition, organ and double bass as well as Scandinavian languages, which he used during Second Word War as head of the Scandinavian desk in U.S. military intelligence. His composition teachers at Harvard University included Walter Piston and George Enescu.