An Evening with Friedrich Gulda at the Keyboards
In a live recording from the Amerikahaus, Munich, Friedrich Gulda reveals the versatility of his keyboard playing. On the clavichord he plays three preludes and fugues from Bach's Well-Tempered Clavier (in A minor BWV 889, in C major BWV 846, in A flat major BWV 886) on the piano; his own re-working of Schubert's song Der Wanderer, ending with Debussy's Reflets dans l'eau and a selection of his own compositions.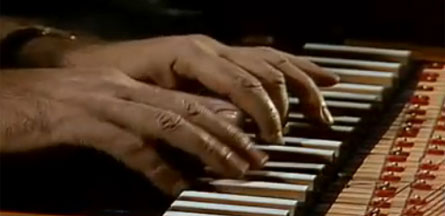 Watch the recital here:
http://www.classicaltv.com/v530/friedrich-gulda-solo-flight
…or on YouTube:
---
*** MUSICAL HOLIDAY GIFTS FROM PIANO STREET ***
Free sheet music for the pieces in the above video
(click images to open in new window):
Bach: Prelude & Fugue WTC II no 20



Bach: Prelude & Fugue WTC I no 1


Bach: Prelude & Fugue WTC II no 17

Schubert: Der Wanderer


Debussy: Reflets dans l'eau


---
Friedrich Gulda (1930-2000) won first prize at the International Competition in Geneva in 1946. He began going on concert tours throughout the world.
Together with Jörg Demus and Paul Badura-Skoda, Gulda formed what became known as the "Viennese troika".
Gulda had a strong dislike of authorities like the Vienna Academy, the Beethoven Ring of which he was offered in recognition of his performances but which he refused, and even faked his own death in 1999, cementing his status as the enfant terrible among pianists. Nevertheless, Gulda is widely
regarded as one of the most outstanding piano players of the 20th century.
His piano students included Martha Argerich and the conductor Claudio Abbado. He is also remembered as an accomplished jazz-pianist, musical thinker and avant-garde artist. Although most famous for his Beethoven
interpretations, Gulda also performed the music of J.S.Bach, Mozart, Schubert, Chopin, Schumann, Debussy and Ravel.